Single-window system introduced at Doon Hospital
Dehradun, April 28
A hassle-free, single-window system (SWS) became functional at the Doon District Hospital today.
Building in possession of MLA's brother sealed
Dehradun, April 28
A property, where a club was allegedly being run by Sachin Upadhyaya, younger brother of Tehri MLA Kishore Upadhyaya, was sealed by the Mussoorie Dehradun Development Authority (MDDA) today. The Commissioner, Garhwal, ordered in favour of the MDDA after hearing both the sides. The manager of the club, which was allegedly being run on the property, was arrested when he tried to misbehave with mediapersons and police personnel present there.
| | |
| --- | --- |
| Employees of the MDDA seal a building in the possession of Sachin Upadhyaya, brother of a Congress legislator, in Dehradun on Thursday | Sachin folds his hands before an official. Tribune photographs |
Mahanagar Congress announces its working committee
Dehradun, April 28

The Dehradun Mahanagar Congress today announced its 110-member working committee. The working committee includes 26 vice-presidents, 49 general secretaries and 35 secretaries.





Harish Virmani, president of the Dehradun Mahanagar Congress, addresses a press conference in Dehradun on Thursday. A Tribune photograph

British community elated at Prince William's wedding
Mussoorie, April 28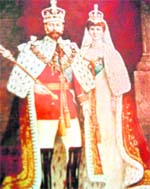 The announcement of Prince William tying nuptial knots with Kate Middleton on 29th April, has elated the British community residing in Mussoorie. Ollie, a British citizen living in Mussoorie, said it was, indeed, an occasion to celebrate, as the house of Windsor prepared for the big day. He, however, said he would not be able to be a part of the wedding at the West Minister Abbey, but his family members back home were planning to witness the historic occasion.



A rare picture of King George VI and the Princess of Wales,which was given to Mussoorie historian Gopal Bhardwaj by Miss Sullivan, a British nurse

Implement Right to Education Act: Samajwadi Party
Dehradun, April 28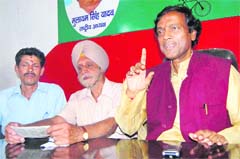 President of the Uttarakhand unit of the Samajwadi Party Vinod Bharathwal urged for the proper implementation of the Right to Education Act in the state so that poor children could study in good English-medium schools.



Vinod Bharathwal (right), president of the Uttarakhand unit of the Samajwadi Party, addresses a press conference in Dehradun on Thursday. A Tribune photograph

Rotary Club gives scholarships to 140 students
Mussoorie, April 28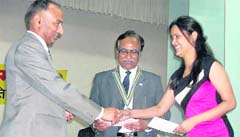 Rotary Club, Mussoorie, distributed scholarships of around Rs 2,50,000 to 140 school students from 17 schools in Mussoorie and Dehradun, at a formal ceremony held in Mussoorie Public School today.



Anil Raturi, IG (Intelligence), gives away a scholarship to a student at a Rotary Club function in Mussoorie on Thursday.

CII holds outreach programme
Dehradun, April 28
The Confederation of Indian Industry (CII), Uttarakhand, in association with Treks 'n Rapids Private Limited, organised a two-day residential outreach-training programme on "Team Building and Leadership Skills" at Aranyam River Retreat, Rishikesh, yesterday.
Workshop to sensitise people against corporal punishment
Dehradun, April 28
A state-level workshop 'Learn Without Fear' to sensitise people against corporal punishment was held under the aegis of the 'Plan India' project and Shri Mahila Bhuvneshwari Mahila Ashram, an NGO. Speaking at the workshop, Kuldeep Gairola, Head of Department, Research Evaluation, State Council for Education Research and Training (SCERT), said today that corporal punishment was rampant in schools as it had been given sanctity by parents and society.
Admn gears up for "ambassadors' meeting"
Dehradun, April 28
With the aim of showcasing trade and investment opportunities in Uttarakhand, the state government will be organising an "ambassadors' meet" on May 13 and 14 here. The theme of the meet is "Uttarakhand: Land of Opportunities".
Al-Fateh no match for YMCA
Dehradun, April 28
Young Men Cricket Association (YMCA) entered the semifinals of the Beehive Twenty20 Cricket Tournament defeating Al-Fateh by 65 runs here in the fourth quarterfinal played at Matawala Bagh here today.

A batsman in action in a match in the Beehive Cricket Tournament in Dehradun on Thursday. A Tribune photograph

St Jude beat Carman School
Dehradun, April 28
St Jude got the better of Carman School, Dalanwala, in the Gardner Premier League Inter-School Indoor Cricket tourney, here today.
Kasiga School beat Children's Academy
Dehradun, April 28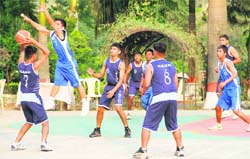 The All-India WC Kashyap Inter-School Basketball Tournament started today in the courts of Pestle Weed College.The teams that are participating in the tournament include LK Singhania, Gotton Rajasthan, Kasiga School, Summer Valley School, RIMC, Doon International School, Doon School, the Asian School, St Joseph School, the Aryan School, Raja Ram Mohan Roy School, Children's Academy, and Pestle Weed College.

A match under way in the All-India WC Kashyap Inter-school Basketball Tournament at Pestle Weed College in Dehradun on Thursday.