PUNJAB

HARYANA

JAMMU & KASHMIR

HIMACHAL

REGIONAL BRIEFS

NATION

OPINIONS

LETTERS

BUSINESS

SPORTS

WORLD


Foeticide a major issue now
Panipat admn ropes in 'bhajan mandalis'
Panipat, May 5
With the recent census again bringing to fore the issue of skewed sex ratio in the state, the authorities here have come up with a novel idea of using "bhajan mandalis" (singing groups) to spread the message against the social evil.
Campaign picks up in Panchkula
Panchkula, May 5
With a view to combating the problem of declining sex ratio, a special 15-day publicity campaign is being carried out in the district to create awareness among the people against female foeticide.
Women exhorted to put up brave front
Kurukshetra, May 5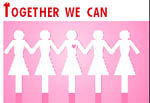 Asha Hooda, chairperson, Indian Council for Social Welfare (ICSW), Haryana, exhorted women of the state to fight tooth and nail social evils like female foeticide. If there are no girls left in society, the very existence of the humanity would be endangered, she has said.
Rally season is here again
May 3, 2011
INLD sets the ball rolling
April 29, 2011
Panipat admn to take on encroachers
April 26, 2011
Govt to take care of neglected elders
April 22, 2011
State to get tough with civil surgeons
April 19, 2011
Amend PNDT Act to curb foeticide, says civil surgeon
April 15, 2011
SYL issue bounces back
April 12, 2011
Curbs on felling trees on farmland go
April 8, 2011
UHBVN to upgrade distribution system
April 5, 2011
Panel to decide quota for Jats soon: CM
April 1, 2011
Rs 500-cr schemes for Assandh
March 29, 2011