Handling the agrarian crisis
Merely reversing policies won't do
by Kuldip Nayar
IT is the same story of a farmer and his land. The government acquired green fields at Greater Noida, in the suburbs of Delhi, for "public purpose" to develop Yamuna Expressway for allotment to the highest bidder in the private sector. The payment was nowhere near the market price. In fact, it was one-fourth of what the farmers got — Rs 800 per square metre against Rs 3,200. Developers are selling it at Rs 11,000 an acre.
The agitated farmers "detained" two officers to put pressure. This led to a clash between farmers and the police. Four people died, two from each side. UP Chief Minister Mayawati aggravated the situation by letting loose the police and driving out villagers from their homes.
The tragedy raises the familiar policy question: how far the development can go to devour the fields which grow foodgrains and that too on a pittance of compensation? I thought that the government had changed its policy to allow a farmer to retain his land if he did not want to part with it. Apparently, this has not happened. Either the Centre or the states have their own agenda which supersedes the assurances.
New Delhi seems to have woken up finally. Rural Development Minister Vilasrao Deshmukh has said that the 1894 acquisition act is being amended. I must say it's pretty soon. The public purpose will be redefined and the market price assured. While redrafting the Bill, the government should also be providing allotting shares to the land owners in some sort of partnership in the industrial unit for which the land is acquired.
The Greater Noida matter should not, however, end with an inquiry into the killings. The malady is deeper, relating not only to the acquisition of land but also to the depletion of income of farmers. Indeed, the performance in the agrarian sector is woeful. In other words, 70 per cent of India's population living in the countryside is in a miserable condition. New Delhi's statements on rural development are many but the scene has changed very little. Even Prime Minister Manmohan Singh's promise last October to amend the act would not have moved further if the farmers had not taken to agitation.
According to the National Crime Records Bureau, as many as 17,368 farmers killed themselves in 2009. This is an increase of 1,172 over the 2008 count. Further divided, it comes to roughly 50 people per day. I do not have to remind that the farmers were in the forefront of the freedom movement. Today they commit suicide while toiling for their meager livelihood. They sacrificed their hearth and home to oust the British so that free India would attend to their plight. New Delhi should realise that the countryside is simmering with agitation and the lava beneath can erupt any time.
Poignant is the comment of a farmer who committed suicide. On March 24, 2008, Shrikant Kalam, a 50-year-old farmer possessing five acres of land in Akola, Maharashtra, hanged himself to death, leaving the following poem: My life is different/My life will be like untimely rain/The cotton in black soil is like a poem to me/Its roots are sweet as sugarcane…
A study on the agrarian crisis, conducted by the Joshi-Adhikari Institute of Social Studies, New Delhi, says that the farm income, even if the earnings from the livestock were added, is "insufficient to meet the cultivation cost and consumption needs." What they add from their labour in the market is too small because of exploitation. I recall talking once to Punjab Chief Minister Parkash Singh Badal, a landlord. He said that you can hold a survey in the country and you will find every farmer being under debt.
As against an average 7 per cent growth of India's economy in the last decade, agriculture registered only a 1.6 per cent rise. In fact, agricultural growth in the country has now stagnated for more than 15 years. In the 80s, it was 3.3 per cent, in the 90s it came down to two per cent and now it has slipped down further to 0.4 per cent. The steering committee on agriculture for the formulation of the 11th Five-Year Plan has admitted that after independence such a drop in the agricultural output has been "witnessed for the first time." Spurts in growth in the production of foodgrains should not delude either the Planning Commission or the government.
The result of the decline is that the per capita availability of foodgrains in 2011 is to the level attained in the 50s. The Calories intake has gone down from 2153 (1993-94) to 2047 (2004-05) in rural India and from 2071 (1993-94) to 2026 (2004-05) in urban India. The threatening magnitude of food insecurity manifests itself in starvation deaths.
The Indian economy is engulfed in a deep and intractable crisis. The government's response to the situation has been to introduce populist measures like debt waivers, the proposed Food Security Bill, etc, and continue with the neo-liberal thrust of opening up our agriculture to world market forces and to the corporate sector. This has exacerbated the crisis and created an impression that the agrarian unrest is the result of the policies of globalisation, and a reversal of these policies will correct the situation.
Of course, it is necessary to resist the neo-liberal policy frame and also to reverse it. However, the crisis has a much longer history. Its root has gone deeper. Just reversing the policies of the past two decades cannot undo the injustice meted out to the majority of the agricultural population over the centuries. The roots of the agrarian crisis have to be traced to the distorted capitalist development trajectory that we inherited from our colonial past. Prime Minister Jawaharlal Nehru, a socialist by conviction, could have done something since he ruled the country for 17 years. But he got enamoured of industrialisation.
I concede that industry is necessary to lessen the country's dependence on agriculture because of vagaries of weather. But there has to be a balance. Nehru realised this but late. Prime Minister Manmohan Singh, a well-known economist, has not even now. One can see the consequences within the seven years of his rule. That farmers are committing suicide because they earn far less than they borrow should make every Indian hang his head in shame. Land reforms may be a revolutionary step for the type of economy Dr Manmohan Singh is imposing on the country. But he can at least do something to overcome the stagnation in agrarian growth.

The pleasure of giving
by Jupinderjit Singh
RICH hearts do not need money. For, even the poorest, who beg or pull rickshaws to arrange for two square meals, take joy in giving.
I hate begging. For the better part of my life, I was one of those people who just told beggars to "go, find some work." But I could never refuse one alms seeker.
This boy was about 10, often spotted at Bharat Nagar Chowk in Ludhiana. He was a little fairer than others and always had a mischievous smile on his face, with overgrown hair falling on his eyes. I always gave him some money but with the customary advice.
"Not a single rupee today," I told him one late evening. My voice was dying down in the sound of growling tummies of me and my wife, both returning home after a hard day's work. "We forgot the money at home and I am so hungry," added my wife pitifully.
Before I could notice, the boy disappeared as we waited at the busy chowk, only to reappear on the other side of the car, carrying four bananas in his hands, which he offered to my wife. The spark in his eyes said all about the pleasure he had to be able to help. "Give me money tomorrow," he said.
We could not deprive him of the pleasure he was feeling at that time by saying no to him. It is immaterial how we thanked him later. The look of joy he had when we took the fruit is permanently etched in my mind.
A rickshaw puller touched a close NRI friend's heart similarly. As a child, she protested with elder women bargaining with boney rickshawallahs. On her recent visit, she hired a rickshaw, offered double the price for a said distance on the condition that she would stop for shopping here and there.
The puller was a young Punjabi, whose family owned a small piece of land, which did not provide much. On the way he narrated to her that he was forced to double up as a farm labourer and a rickshaw puller to attend to an ailing wife and the education of his children. She gave him Rs 100. "Didi, you are the kindest person I have ever met," he could only say.
"You have been looted," was what her elderly women relatives told her.
A few weeks later, the youth reached her house again. Eyebrows were raised as all thought he had came to seek more money.
"Didi, today is Raksha Bandhan. I brought a rakhi for you," he said showing a colorful string. As she tied him the rakhi, he slipped a Rs 100 note and Rs 50 each for the two kids. "My wife is well. We both work now and had a good crop also. Brothers don't take from sisters," he said.
The woman could not refuse. She looked in triumph at other women showing them the sight of humanity in front of them.

With the adoption of New Economic Policy in 1991, India moved towards globalisation in economic sphere. However, does the concept of a Global Indian hold any water when we see the existing social conventions and biases? This debate between modernity and tradition has raged since decades and answers still remain elusive, especially as far as the youngsters are concerned
The Myth and Reality about The Global Indian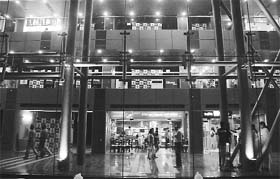 BEFORE Mohandas Karamchand Gandhi set out on the path to become the Bapu or Mahatma, he was an ordinary man who went to London to secure his life by pursuing a career in law. He candidly admits in his autobiography, 'The Story of My Experiments with Truth' that he even made an attempt to emulate the 'English Gentleman' by changing his wardrobe to suit the English society and took lessons in playing violin, dancing as well as elocution. However, despite this new endeavor, this Gujarati baniya could not forsake the vow given to his apprehensive mother that he won't give up vegetarianism even in that foreign land.
I won't be exaggerating, if I claim that more than a century hence, when India is becoming more and more global, there still remains this Gandhi in all of us, making an attempt to bridge the gap between modernity and tradition.
Shashi Tharoor in his best-seller, 'India: From Midnight to Millennium' has made an apt observation, "Any truism about India can be immediately contradicted by another truism about India."
Nothing can better describe this observation than the example of Saurabh Damle (name changed), a Nasik-based blogger who is very vocal about personal choice and modern thinking. He was in a live-in relationship for a few months in Mumbai before he was forced to return to his home-town because of his mother's deteriorating health. Presently, he is preparing to get married to a girl of his mother's choice, while vehemently opposing arranged marriages on his blog. An outsider might call it hypocrisy but only an Indian can empathise with his situation.
The mother's choice might still be a democratic one in many cases but in the state of Haryana, we have instances of the whole community deciding as to whom one can marry and whom one can't. To the unknown, it might seem as something that is only happening in the far-flung rural parts but the fact remains that the khap panchayats extend their influence even on educationally and economically sound community members living in the cities.
Priya Ahlawat (name changed) belongs to an educated Jat family of Karnal whose members have even joined civil services. However, when it came to marriage, she had a tough time convincing her parents as her beau, despite being the son of close family friends, belonged to a different community, something that could have led to the ostracising of the whole family. Finally, after years of unfruitful convincing, she married him against her father's wishes and has since moved to Canada.
Be it social, political or economic structures in India, everywhere our modern thinking and individual reasoning is making a desperate effort to catch up with the deeply ingrained traditional values and societal conventions.
Take the example of the conventional careers in India where sciences have completely eclipsed humanities and other fields of study and have facilitated globalsation. It is an irony that scientific temper literally means an attitude which involves the application of logic and the avoidance of bias and preconceived notions. However, while opting for science subjects for their wards after high school, majority of the parents stick to the conventions without making an effort to analyse the individual aptitude and calling of their children.
Rashi Gupta, a 17-year-old student from Chandigarh, who is appearing for law entrance examinations this year is actually a non-medical student. Somehow, into the preparation for the IITs, she realised this was not her cup of tea and at the last moment decided to look for alternative careers. Unlike her, there are many students who despite lacking the aptitude, end up in sub-standard engineering colleges and after four years find themselves stranded, without a job.
In India, certain customs have become such an integral part of our collective subconsciousness that we don't even treat them as anti-modern anymore. For example, dowry is treated as dowry only when vocally demanded by the groom's side. There exists a tacit understanding between the two families that results in the dowry being passed on as customary gifts. Similarly, asking our relatives and friends for references while visiting some government official known to them in order to expedite our work is considered a social obligation and not something synonymous to corruption.
However, a peculiar mistake many Indians tend to make is to mistake westernisation for modernization. Just by uploading western music on their mobile phones or wearing western branded apparels, some youth tend to believe that they are being modern. Anything stemming out of Indian tradition for them seems to be anti-modern. One must not forget that one of the most cherished traditions of India happens to be that whichever height a person reaches in his career, he doesn't mind to bow down in order to touch the feet of elders out of respect.
So while the modern Indian chases the traditional Indian, it's important that our collective consciousness makes the right decisions as to which facets needs to be changed and reformed and which needs to remain ingrained in our psyche to make the Global Indian, an Indian first.
The author is a blogger and the center manager of a reputed coaching institute based in Chandigarh



We might have imbibed the sartorial ways and manners but are we really globalised when it comes to the female infanticide and the skewed sex ratio in the country? Modern education hasn't been able to eradicate the gender bias. When my son was born, the same people who had wry faces at the birth of my daughter glorified me to the hilt.
— Debarati Mitra Handa, 35,
Academic Instructor at Bulls Eye, Chandigarh

The Global Indian is becoming a reality as India is producing more and more entrepreneurs who are willing to take risks and have full support and backing of their families. This in fact stems out from the financial security of the rising middle class, a by-product of globalisation itself.
— Amit Sharma, 25,
pursuing MBA from Narsee Monjee
Institute of Management Studies, Mumbai

Traditions have developed and passed on through centuries. Modernity comes with its objectivity and reasoning and gets mingled with set traditions. We still need our culture as a backup, while continuously evolving into a Global Indian.
— Rachana Shakyawar, 27,
Hospitality Industry, Bengaluru





India is a land where the Blackberry Boys coexist with the social and radical fanatics. In the last couple of decades this friction between the forward-looking mindset and the backward-looking tendencies has resulted in many problems. However, despite all its ironies, the Global Indian has surely arrived and for the good.
— Saurabh Goyal,
Sales manager, Citibank, Chennai




In a democratic se- up, in spite of the social biases, there's a belief that every Indian carries that he can exercise his right to contribute to the growth of India. Globalisation has provided the much required impetus and it will surely bring about changes in other spheres of social life too.
— Rachna Baweja,
Consultant, Sparta Consulting, KPIT Cummins, Noida




For most of the Indians, their religion and caste are their identity. We Indians might be getting open-minded about many issues; we still need to become more secular. Our lifetimes are nothing but wink of an eye in culture and tradition. It seems as if culture & tradition will prevail over globalised mindset of Indians.
— Sunil Gobbannavar, 24,
Engineer, Hubli (Karnataka)




Being Global is a very relative term. I know so many people who have not visited a single country and still know about 100 countries in so much detail that it surprises you! To be really global, our worldview has to expand beyond theoretical sphere. Only when we practically adopt and adapt to universal cultures, we may call ourselves global.
— Neha Thakkar, 28,
Legal Consultant, Mumbai



Before we take the next step towards becoming a Global Indian, we should first mull over our social and cultural values. Why don't we emerge as trendsetters instead of adopting others? If we can emerge as trendsetters considering our traditional flavour, then we can surely have our cake and eat it too.
— Saravana Kumar Murugan, 24,
IT Professional, Wipro Technologies, Bengaluru