The improvement of medical facilities in the last decade has ensured that there are lot more older adults in our society today than at any other time in our country's history. A look at India's demographic profile indicates that there will be an increase in the senior citizen population in the years to come. The increased longevity of our population will certainly drive the need for older adults to remain physically independent, which, in turn will allow them to extend their professional career and retain their financial independence. Parallel to this is the desire of seniors to maintain an active, high-quality lifestyle so that they can enjoy everything from recreational activities to necessary daily tasks. More and more senior members of our society are taking their fitness regime seriously and achieving alarming levels of personal fitness levels.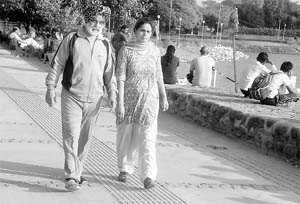 Too old to exercise?
Once, a senior person asked Arnold Schwarzenegger: "Am I too old to exercise?" He turned around and remarked: " You are too old not too!".
How old is old?
In 1900, people were considered old in their 40s; just 40 years ago people seemed old in their 60s, but today thanks to the miracle of modern preventive medicine, many people feel sprightly and youthful at 80. My father is 75 and he plays three rounds of golf every week with his friend who is 84!
I like to tell my senior clients to ask themselves the question: 'How old would you think you were if you did not know how old you were?' In most cases, the disparity between the reality and the imagined age will give the answer about your fitness level. So, if you are only 50 and feel like you are 60, then you have work to do, old boy! On the other hand, I can give examples of many in my camp who can quite regularly out-run or out-row their children. Their fitness index is higher than their kids.
What are the changes that accompany the ageing process?
* Loss of muscle mass (sarcopenia).
* Deterioration of bone density (Osteopenia).
* Increase in basal metabolic rate (BMR) —the rate at which your body burns the calories that you consume in the form of food. The ageing process slows it down.
* Loss of flexibility or the ability to generate movement about a joint.
* Poor sense of stability and balance.
* The cardiovascular functions also slow down which means that the lungs and heart (extraction and delivery system) has to work harder and harder each year to pump blood and other nutrients to the muscles.
The good news is that all these processes can be arrested and even reversed. Let me warm your senior hearts by giving alongside some of the timings of Master athletes for a 100 metre dash.
Take care of the ticker
The risk factors for coronary-artery disease increase as people get older but you can buck that trend by taking part in any cardiovascular exercise of your choice like cycling, walking, swimming or rowing for 30-45 minutes, 3-4 times a week. Just ensure that the pace of the activity is frenetic enough to bring about a mild breathlessness or elevated pulse rate. If you would like to rate running away from a grizzly as a (difficulty) level 10 activity, ensure that you are training at level 7, consistently.
Keep the bone density- pick up the weight!
Loss of bone density or osteopenia is a big curse of 21st century sedentary urban existence and this gets accentuated with old age. The best way to simulate the formation of bone tissue is to participate in resistance training. It is believed that one-tenth of the force that causes a fracture actually helps to develop bone density. Choose exercises that direct the force vectors through the hip and spine. The best exercises for developing bone density are squats, lunges and step-ups for the lower body and shoulder press or military press for the upper body. Choose weights that you can safely lift for 15 times without tiring and rest 1-2 minutes between sets.
Stretch that muscle
Muscles tend to get tight with age. This tightness affects our posture, which accounts for why some old people tend to exhibit poor postural forms. Vladimir Janda, a Czech rehabilitation specialist, describes a group of muscles in the body that universally show a tendency towards tightness with age. Some of these include the hamstrings, quadriceps, groin, calf and hips. Some typically common age-related symptoms of low back pain, neck pain and knee pain can easily be avoided with regular stretching and strengthening.
Do muscles shrink with age?
Yes, they do. For example, if one of your muscles consisted of 100 fibres when you were 30, the muscle would probably still contain 90-95 fibres 20 years later, but the fibre count would plummet to 50-55 when you become an octogenarian.
So what can you do about it?
Fortunately, there is a positive side to the story. People who participate in resistance training can arrest or even reverse the tendencies of their muscle fibres from shrinking. As an additional lolly, resistance training in older individuals seems to increase the number of small blood vessels around muscles by up to 15%, potentially increasing endurance capacity. Since the overall process of muscle loss picks up pace after the age of 50, strength training for people above the age of 50 is especially critical. Fortunately, it's never too late. Research demonstrates that even individuals over the age of 80 can fortify their muscles by participating in regular strength training workouts.
Prescription for senior fitness
* Stretch muscles 4-5 times a week. Yoga is a great stretching protocol.
* Participate in an aerobic intensive sport or alternately, aerobic activity three times a week. Swimming is the best from of exercise for the senior population.
* Train with resistance bands or weights 2-3 times a week.
* Drink lots of water before, during and after exercise.
* Allow yourself lots of rest between sets while training with weights.
* Warm up and cool down thoroughly. Older muscles need a longer warm-up period.
* Give yourself 1-2 days of complete rest in a week to aid recovery.







THE 5 BEST SUPPLEMENTS TO PROTECT YOUR JOINTS FROM AGE-RELATED DEGENERATION

Vitamin C: Is vital for the formation of collagen, which is a protein forming the basis for connective tissue, such as tendons and intervertebral discs.

Omega- 3 Oils: Helps to inhibit the action of series 2 prostaglandins which cause joint and tissue inflammation and pain.

Antioxidants: There are a number of antioxidant nutrients that afford protection from free radical damage in the body, but Vitamin E and Selenium appear to be especially important

Zinc: Activates numerous enzyme systems in the body that process amino acids and is also required for collagen formation.

Glucosamine sulphate and Chondroitin sulphate: Glucosamine sulphate appears to promote the formation and repair of cartilage, while Chondroitin seems to promote cartilage water retention and elasticity.

DO THE YOUNG RESPOND MORE EFFECTIVELY TO AEROBIC TRAINING?THAT'S JUST NOT TRUE!

In a study carried out in the University Of Florida, 10 sedentary old (aged 67) males and females and 11 sedentary young (aged 30) males and females completed a 16- week exercise programme. All subjects worked out three times per week on a treadmill and/or stair-climbing machine for around 20 to 40 minutes at approximately 60-80% of maximal heart rate.

At the end of 16 weeks, the young athletes had increased their maximal aerobic capacity by 12%. The oldies? Hold your breath: they enhanced their capacity by 14%.