Today Is World Anti-Tobacco Day
Smoking a common sight in city despite ban
Sonika Bhatia
Tribune News Service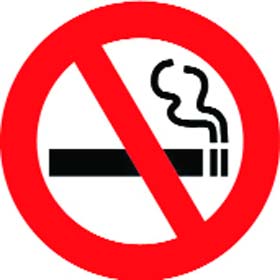 Dehradun, May 30
Two years have passed since the government has put a ban on smoking at public places but it seems that people care little about it as they can be seen puffing away openly in the city. On the eve of World Anti-Tobacco Day that falls on May 31, The Tribune tried to find out how many challans had been issued by the administration in this connection. But the number was nil.
Unfortunately, those responsible for ensuring the ban on smoking in the public places, say that though the law has been passed, they are yet to get the notification. According to government rules, smoking is banned in public/private work places, hotels, banquet halls, canteens, coffee houses, pubs, bars, railway stations, bus stands and likewise, but it is still a common sight in all these places, creating trouble for the non-smokers.
Rajneesh Sharma, a city resident who is a teetotaller, said, "There is hardly any check in the city on smokers who do not care for others and continue smoking brazenly in public places. He asserted that there was no use of passing such laws if the administration could not implement these."
The district administration claims that it has not received any government order till now but all gazetted officers are free to challan a person caught smoking in public places. Sachin Kurve, District Magistrate, admits that his staff has not fined even a single person since the ban came into existence and adds that it is the duty of the police to check the practice. Senior Superintendent of Police (SSP) GS Martoliya also failed to give any figures regarding challans issued to smokers.
Dr Kailash Joshi, Senior Health Officer, Municipal Corporation, too, claimed that they had not received any notification. Therefore, they couldn't challan anyone. "We will start challaning the people, once we receive the government order," he said.
According to the WHO statistics, currently tobacco use is causing nearly one million deaths in India every year. Globally this figure is five million and an equal number suffer from tobacco-related diseases and disabilities.
The ban on smoking in public places came into effect on October 2, 2008, under the Cigarettes and Other Tobacco Products (Prohibition of Advertisement and Regulation of Trade and Commerce, Production, Supply and Distribution) Act, 2003, which is also known as the Anti-Smoking Act. The provision said anyone found violating the ban would be fined Rs 200 and if the offender refused to pay, he would have to appear before the SDM's court.