CBSE Class X exams
Students of Doon International School excel
Nineteen students secure A1 grade
Yamini Sunwar
Tribune News Service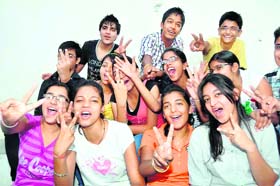 Students of Doon International School in Dehradun in a joyful mood after the declaration of the CBSE Class X examination results on Wednesday. A Tribune photograph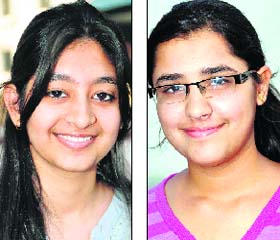 Divya Shukla Shreya Singh

Dehradun, June 1
Students of Doon International School, Dehradun, rejoiced at their success after the declaration of the CBSE Class X results today. The school boasts of having the highest number of students (19), who have secured A1 grade.
Kanika Pasricha, who wants to become an engineer, said: "Appearing in the board examinations was just like giving any mid-term exams with no pressure to score the highest percentage. The grading system has also helped those who cannot bear pressure."
Ayushi Garg, who has also secured A1 grade, said: "The guidance of my teachers helped me a lot while preparing for the board exams. The grading system is the best method to help students to come up with an effective examination strategy."
Another topper in the school, Anmol Singh, says: "Though the grading system has given a respite to average students, it has not gone down well with brighter students, as one who has secured 95 per cent is considered under the same grade where a student with 91 per cent falls."
Divya Shukla, another topper in the school, said the board should come up with an optional system, wherein candidates could opt for either the percentage pattern or the grade pattern.
"I just paid concentration in classes and took no tuitions. Thorough revision helped me to come on top today," said Rishika Luhach.
Dinesh Barthwal, Vice-Principal of Doon International School, said: "I am happy with the results of my school. My students have done exceptionally well and have brought laurels to the school and their families. I wish them as well as my teachers a very good luck in the future."
Results of other schools (A1 grade)
DAV Public School
Ashish Choubey, Himani Chauhan, Monika Bisht
and Swati Dhar
Doon International School
Ayushi Garg, Anmol Singh, Divya Shukla, Shreya Singh and Kanika Pasricha
Kendriya Vidyalaya (ONGC)
Niharika Singh, Shreya Sharma, Ekta Rawat, Arshi Sashi, Akshita, C Prashant, Kanika Rawat, Ravindra Bhatt and Shubham Gupta
Kendriya Vidyalaya (FRI)
Ankit Gupta, Shailja Pal and Shrishti Prashar
Kendriya Vidyalaya (IMA)
Ruby and Saurab