Protest against hike in water charges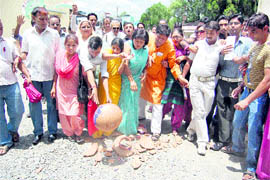 Dehradun, July 19
Congress workers today protested outside the Water Works Department office here today at Dilaram Chowk against the 15 per cent hike in the charges of drinking water. To mark their protest, the workers broke earthen pots on the road outside the office.
Congress workers break earthen pots in protest against the decision to enhance water charges in Dehradun on Tuesday. Tribune photo: Anil P Rawat
'Human follies, not just rain, behind 2010 devastation'
Dehradun, July 19
It is not just rain but human follies that caused devastation in the Garhwal hills last year. A commentary, published in the "Current Science" a journal entitled "Recent landslides in Uttarakhand: Nature's fury or human folly", has dwelt on reasons behind last year's devastating landslides in the Garhwal Himalayas triggered by massive rain.


Traffic snarls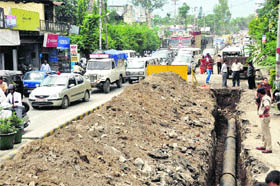 A traffic jam on the busy East Canal road due to the laying of a pipeline in Dehradun on Tuesday. Tribune photo: Vinod Pundir
Team surveys Mussoorie areas
Mussoorie, July 19
The Disaster Mitigation and Management Centre (DMMC), the state Town Planning Department and the Mussoorie Dehradun Development Authority (MDDA) today jointly conducted a survey of the town to ease the existing construction norms and formulate new ones. This will help people to reconstruct their old and dilapidated houses.
New MD aims at saving sinking UTC
Dehradun, July 19
The Uttarakhand Transport Corporation, formed in 2003, is struggling to survive given composite losses of Rs 30 crore. Its newly inducted Managing Director Ranjit Kumar Sinha has come up with some novel ideas to turn the corporation into a profit-making establishment.
UKD holds protest at DM's office
Dehradun, July 19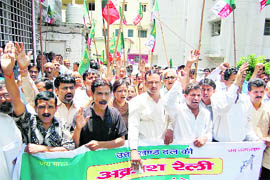 In pursuance of their programme to lay a siege to the district headquarters throughout the state, the workers of the Uttarakhand Kranti Dal (Panwar faction), led by district president NK Gusain and city president Bahadur Singh Rawat, held a demonstration in front of the District Magistrate's office today and submitted a memorandum to him to be forwarded to Chief Minister Ramesh Pokhriyal Nishank.

Workers of the UKD (Panwar faction ) hold a demonstration at the office of the District Magistrate in Dehradun on Tuesday. Tribune photo: Anil P Rawat
Two held with leopard skins
Pithoragarh, July 19
The police arrested two persons with leopard skins here today. The duo, Devendra and Mahendra, have been booked under the Wildlife Protection Act.
'Gloom to Glory', an inspiration for out-of-form players: Negi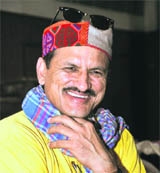 Dehradun, July 19
He may have traded the hockey stick for arc lights for now but the joy that he experienced while representing the Indian team at the national and international arena continues to act as a magnet egging ace hockey player and coach Mir Ranjan Negi to do his bit for the game that continues to be in the doldrums.

Mir Ranjan Negi, a former hockey player, in Dehradun on Tuesday. Tribune photo: Vinod Pundir
Gorkha Rangers, Vijay Cantt victorious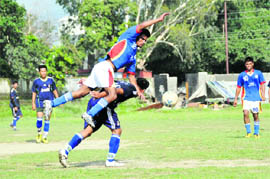 Dehradun, July 19
Gorkha Rangers and Vijay Cantt scored wins in their respective matches during the 60th Lala Nemi Dass Memorial District Football League here today. In the first encounter, Gorkha Rangers defeated Doon Challengers 2-0.

Players in action in a match in the Lala Nemi Dass Memorial District Football League at the Pavilion grounds in Dehradun on Tuesday. Tribune photo: Vinod Pundir