Dist Doon Hospital
X-ray machine, RO unit break down
Dehradun, July 26
Banking on old machines that are past their shelf life may seem to be the only alternative for the cash-strapped District Doon Hospital, but not for long. The hospital authorities can no longer ignore the problem as most of the equipment is in need of immediate overhaul.
Two suspected poachers held
Dehradun, July 26
Two suspected poachers, who had recently managed to escape leaving behind two leopard skins, have been arrested, a forest official said today. Acting on a tip-off, forest officials laid a trap and arrested the two in the Thatyur area, near Mussoorie, last evening, Mussorie DFO Ramgopal said.
Cops get tough against roadside parking near schools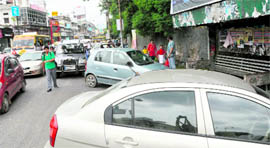 Dehradun, July 26
Vehicles of students and parents parked on the roads outside city schools often lead to traffic jams during opening and closing timings of the schools. The city traffic police now plans to deal with the menace strictly.

Cars parked outside a school on the main Rajpur Road blocking the flow of traffic in Dehradun. A Tribune photograph

Shortage of teachers affecting studies: MLA
Dehradun, July 26
Complaining about the scarcity of teachers in the elementary schools of Uttarakhand, Amrita Rawat, MLA, Birokhal said the education system in the hilly areas was becoming weaker day by day.
Swati gets best debater prize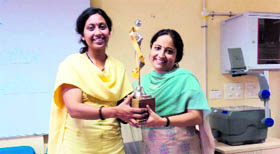 Dehradun, July 26
To test the creativity potentials of students on technology and other technical innovations, ICFAI University, Dehradun, conducted an inter-house debate here today.



The winners of an inter-house debate on technology organised by ICFAI University in Dehradun on Tuesday.

Samiti opposes technique to 'change sex of foetus'
Dehradun, July 26
The members of the Janwadi Mahila Samiti held a demonstration in front of District Magistrate's office today. They were protesting against violence against women, widening gap in the sex ratio, corruption, inflation and the delay in reaching a consensus over Women's Reservation Bill. Later, they submitted a memorandum to be forwarded to the President of the country to Additional District Magistrate (Finance) Neeraj Kherwal.
KVS Commissioner visits FRI school
Dehradun, July 26
Commissioner, Kendriya Vidyalaya Sangathan, New Delhi, Avinash Dixit, visited Kendriya Vidyalaya, FRI, here today. The students and staff members of the school gave him a red carpet welcome.
U'khand Tigers maul Khukri Club 2-0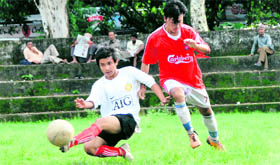 Dehradun, July 26
Uttarakhand Tigers beat Khukri Club 2-0 here today in the 60th Lala Nemi Dass Memorial District Football League.




A match in the Lala Nemi Dass Memorial Football District League in progress on the Pavilion Grounds in Dehradun on Tuesday. Tribune photo: Vinod Pundir

Inter-section squash begins at RIMC
Dehradun, July 26
All the cadets take active participation in squash at Rashtriya Indian Military College (RIMC). The college has produced many good squash players like Ritwik Bhattacharya, Brig Raj Manchanda, Major Shakti Singh. The results of the matches played on the first day of an inter-section squash competition were as follows.
Badminton team back in city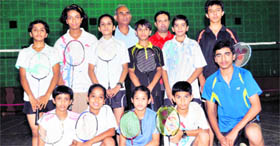 Dehradun, July 26
Badminton players of Dehradun today returned after participating in the All-Sub-Junior Ranking Tournament held at Banglore from July 20 to 24. Coach Deepak Rawat said 11 players took part in the meet. Five of the players were already in the main draw.

The Dehradun sub-junior badminton players. A Tribune photograph