M A I N N E W S
Day 3: London violence engulfs Britain's second-largest city Birmingham among other cities
Riots spread in UK
* Cameron pledges crackdown, cuts holiday short
* Shops looted, cars and buildings set ablaze
* Reinforcements called in, 16,000 officers on duty
* More than 450 persons arrested for violence
London, August 9
Rioting and arson today spread from London to other cities in Britain, including Birmingham, Liverpool and Manchester, with 450 people arrested for the spiralling violence in the last three days and Prime Minister David Cameron cutting short his holiday to return home.
London, which is to stage next year's Olympic Games, witnessed a third night of violence as other cities saw unrest. Protesters were seen destroying and looting shops, setting cars and buildings alight and engaging in clashes with police.
The riots took in their grip cities like Birmingham, where the England and Indian cricket teams were holed up in a hotel ahead of their Test match scheduled to begin on Wednesday, Liverpool, Nottingham and Bristol and Manchester.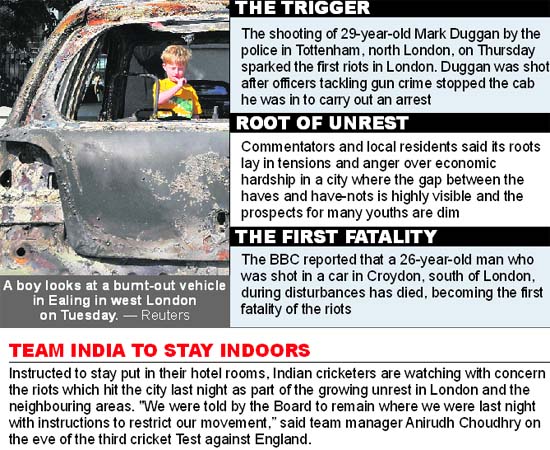 British Prime Minister David Cameron said today the police would crack down hard to quell a wave of rioting and looting across London over the past three nights , the worst violence in the British capital in decades.
"This is criminality pure and simple and it has to be confronted and defeated," Cameron told reporters outside his Downing Street office after returning from a family holiday in Tuscany to deal with a crisis that has stunned Londoners. "People should be in no doubt that we will do everything necessary to restore order to Britain's streets," he said.
Indicating the intensity of the crisis, Cameron was also recalling Parliament from its summer recess on Thursday to make a statement on the unrest, which has spread to Britain's second-largest city, Birmingham, and other centres.
It also shows an ugly side of London to the world less than a year before it hosts the 2012 Olympic Games, an event which city officials hope will serve as a showcase for the city.
The police arrested more than 200 people overnight and a total of 450 over the three nights. Cells were now full with detainees. The statement also said 44 police officers were injured as well as 14 members of the public.
The BBC reported that a 26-year-old man who was shot in a car in Croydon, south of London, during disturbances has died, becoming the first fatality of the riots.
With reinforcements called in from other areas, 16,000 police officers will be on the streets on Tuesday night, almost three times the 6,000 officers out on Monday night, Cameron said.
The police are facing criticism for failing to bring the situation under control as gangs mobilised using social media — particularly secure-access Blackberry Messenger groups — and looted shops at leisure.
Some critics said they were reluctant to go in hard for fear of upsetting local sensibilities.
As calls mounted for stronger measures, Deputy Assistant Commissioner Stephen Kavanagh said police would consider using baton rounds — rubber or plastic bullets.
The first riots broke out on Saturday in London's northern Tottenham district, when a peaceful protest over the police shooting of a suspect two days earlier led to violence.
Tottenham includes areas with the highest unemployment rates in London. It also has a history of racial tension with local young people, especially blacks, resenting police behaviour including the use of stop and search powers.
Stunned Londoners meanwhile counted the cost of the pillaging and tried to clear up the mess on Tuesday morning.
In the poor eastern district of Woolwich, broken glass littered streets that were strewn with stolen goods, tailors' dummies and other debris.
Simon Mills, manager of Birts & Son, jewellers and pawnbrokers, said he had lost goods worth £50,000-£60,000.
"I don't think terrorists could have done a better job than what they have done here."
In Ealing, one resident told Reuters about 150 hooded youths had walked down his road smashing car windows.
"It's very sad to see. But kids have got no work, no future and the cuts have made it worse," said Hackney electrician Anthony Burns, 39. "You watch. It's only just begun."
Officials said the violence would not hurt preparations for the Olympics.
The London 2012 Organising Committee was hosting an International Olympic Committee visit on Tuesday.
"Everything is going ahead as planned...there is no change to the plans," a committee spokeswoman said, adding that the Stratford Olympic park site near Tottenham was secure.
However, other sporting events suffered. England have cancelled Wednesday's international soccer friendly with the Netherlands and three club games have also been called off.
The damage was also likely to cost insurers "tens of millions of pounds", the Association of British Insurers said. — Agencies