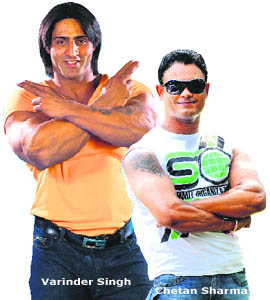 Muscle power
Men would go to any length to have an enviable physique. Interestingly, it's not to impress women, but to ensure their entry into the glamour world
Pumping iron for hours at a stretch, immaculate regularity at meals — one passion, no distractions. Boys undergo a lot of hardship to make and maintain an enviable physique. Just to woo the opposite sex? Nah… there is a lot more on their mind. Cheena Nirmal, 19, has the body of a Greek god. Of course, he has worked very hard for it. BA first year student, when Cheena walks in to the college, heads turn and compliments pour in. But this is not what the scenario has been all along. Just a year back, he weighed close to a 100 kg and was nicknamed Humpty Dumpty! Until one day, Cheena decided to change. Today, he weighs 69 at 5'10".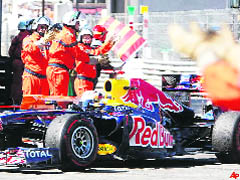 FORMULA for top speed
The real fever for F1 will be at the Buddh International Circuit from October 28-30, which will host the inaugural Indian Grand Prix. And this fever has engulfed motorsport enthusiasts in Chandigarh. Willing to work out in the sun, without getting paid is perhaps pretty symbolic of the work of a marshal! "It's just pure passion, that's why enthusiasts are keen on becoming marshals at the event," says Farhan Vohra, Clerk of the Course (COC) for Formula 1.
BODY ART

A feng shui tattoo on belly button…sounds like a rather unusual fashion statement? Well, it's cool. It's sexy. That's what girls from the opulent city of Ludhiana say. "The dragon-tattoo on my belly button looks good and feels good," says 19-year-old Shikha Parmar. "But it was not easy to get it. I had to work out vigorously for six months to tone up my body. So, in case you envy my tattoo, don't forget the sweat that has gone into it," she adds. For the city's bold brigade, a tattoo on cleavage works well. It's a potent style statement; others who are less experimental make-do with tattoos on the neck and back.
Celeb Point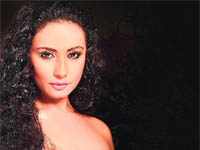 What a man!
When you say Salman Khan, you are talking about a phenomenon…a superstar in a league of his own. Like many other girls, I have had a huge crush on him ever since my teenage days! My uncle was a film director in that project. In our school holidays, we used to visit Mumbai and on one such vacation, we were told, my uncle was making this film with Salman Khan and the muhurat of the film was happening in a few days! Bas!! After hearing that, I was on cloud nine, daydreaming, how I'd meet Salman, how he would notice me in the crowd, and how he would say come do a film with me! Daydreaming of course but my tayyari was full on!
For a lustrous mane
The book 'Secret' by Rhonda Byrne advocates the need for right thought, right desire and finally seeing it translate into real life situation. If only things were that easy, if only a thought about good, flowing, shining hair could be lived in real life. If only….while scholars explore that option, people at L'Oreal have devised ways promising to make this wish come true.

Green Thumb
Small is beautiful
Most of the gardening queries now a day revolve around the constraint of space planning. It is due to the change in the lifestyle and flat culture that the space available is small. And those who love gardening have to find ways to have a respectable garden. It is their lifeline. How to then cope with such a problem?
Star track
Paying back in kind
Katrina Kaif has agreed to do an item song in Bodyguard for free. She has said she is very grateful to the Khan family for supporting her when she was a nobody so she is keen on repaying by not taking money for her cameo in the movie. She did Hello's cameo for free too.

n Bald and spiritual
n Charming duo
n A Force to reckon with
n Family support
n All over the place
n Keeping Mum
n Bol has a unique storyline!
n Granny's darling
n Bond With the Blonde
n Words of wisdom
Chatter box
Hrithik the father figure
For most of the contestants of Just Dance—Hrithik is a mentor, a friend, their judge, but for the young lad from UK, Karan Pangali, Hrithik is like his father! The graceful dancer says Hrithik is the best critic that he could have ever had. Hrithik tells him where he went wrong and how he can improve on it. More over the Hrithik's look alike said Hrithik has helped him work on his looks especially his hairstyle and attire after each performance. Last time, when Karan was in the danger zone, because he had hurt his foot, Hrithik not only gave him another chance but he also told him that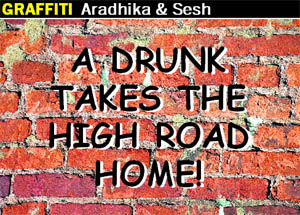 he should take extra care to avoid such incidents. No wonder Karan Pangali felt he was talking to his father.

n Once burnt, twice shy
n Ankita in love
n Aarti to play bhabhi
n Adaa bags a new show
n It's party time
n Love in the rain