Girda remembered on death anniversary
Tribune Reporters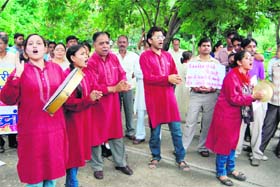 A play is staged in the memory of Girda in Dehradun on Monday. A Tribune photo
Dehradun, August 22
On the first death anniversary of poet and social activist Girish Tiwari Girda today, there were no adulatory speeches but spontaneous recitation of poems and songs that the poet had composed during his lifetime, each appropriate for the moment.
Social activists gathered at Gandhi Park to pay tributes to Girda who continued to inspire them through his works. They sang his songs and recited his poems.
"People's uprising against the government was always at the back of Girda's mind when he had composed poems like "17 June Ka Geet"and "Desh Ki Halat Atta-Batta," said Roshan Dhasmana, a social activist.
Though the maximum part of Girda's life was dedicated to the people's struggle, a poet in him never took a pause. As a fitting tribute to his talent, several awards came his way, including the Uttarakhand Lok Sanskriti Samman, 1998, Shresth Shree Samamn -1996, Prakash Purohit Jaideep Simriti Samman-2001 and Umesh Dhobal Smiriti Samman in 2001. "But he never hankered after them. There was never a sense of triumph but only a sense of responsibility that he thought he would not be able to shoulder with these awards," said Atul Sharma, a poet.
NAINITAL: Street plays, discussions, film shows, a procession and a photo exhibition marked the first death anniversary of eminent folk poet, cultural and social activist Girish Tewari who is fondly remembered as Girda.
His friends and followers gathered at Kranti Chowk, Tallital, and sang songs written and translated into Kumaoni by the poet. People remembered how Girda used to come up with motivating renditions and presentations on the spot when the agitation for Uttarakhand was at its peak in the mid-90s.
Prominent artist Manzoor Husain read out Girda's famous poem on the exploitation of state rivers by people. A team from the Mahila Samakhya staged a street play depicting his contribution in various agitations. Girda's satirical humour that marked the Holi celebrations every year was also remembered in the play. A photo exhibition was also organised, where works of Anup Sah, an internationally known artist in this field, were displayed.
Friends and associates of Girda, including historian Shekhar Pathak and Dharamveer Singh Parmar, talked about various facets of his personality. Two films on Girda made by Pradeep Pande and Brij Mohan Joshi were also screened.
Earlier, the Sharda Sangh and Yugmanch, local cultural organisations, paid tributes to Girda.
MUSSOORIE: A function was organised at a local hotel to mark the death anniversary of Girish Tiwari Girda. People from all walks of life observed a two-minute silence in the memory of the great poet.