Housing federation accused of duping people
Dehradun, September 20
Former president of Uttarakhand State Cooperatives Federation Limited and senior Congress leader Pramod Kumar Singh has accused the Uttarakhand State Cooperatives Housing Federation of duping people in the name of providing them with plots and houses.
Police clueless about truck driver's murder
Dehradun, September 20
The police is yet to find any clue to the murder of truck driver Inder Kumar Mourya whose body was found in a field in the Bombay Bagh area yesterday.
Defence instruments staff stage demonstration
Dehradun, September 20
In support of their 12-point demands linked to pay, perks and cadre restructuring, Defence Instruments Employees Union members here today staged a demonstration outside the main gate of the Instruments Research and Development Establishment.
Vyapar mandal members meet DM, Mayor
Dehradun, September 20
In order to get their various demands fulfilled, members of the Doon Udyog Vyapar Mandal today met Dehradun District Magistrate Sachin Kurve as well as Mayor Vinod Chamoli. Gurbhej Singh, vice-president of the mandal, also apprised them about the condition of various roads in their area.
Welham girls clinch basketball trophy
Dehradun, September 20
Welham Girls' School found an easy rival in Hopetown Girls' School whom it thrashed 52-18 to clinch the trophy of the Gardner Silver Jubilee Inter-School Basketball Tournament for Girls today.

The Welham Girls Basketball team that won the Gardner Silver Jubilee Inter-school Basketball Tournament for Girls in Dehradun on Tuesday; and (right) students of St Thomas School wait for their turn during the prize-distribution function of the tournament. Tribune photos: Viniod Pundir
Degradation of Alpine Habitats
WII for rotational grazing between Bedini, Ali meadows
Dehradun, September 20
Amid the reports of degradation of the alpine habitats and its impact on wild mountain ungulates, the Wildlife Institute of India has recommended for rotational grazing between the Bedini and Ali meadows in Uttarakhand while calling for a reduction in the number of livestock and also reducing the period of grazing as mitigation measures.
10 rehris impounded
Dehradun, September 20
A team from the DMC today held a drive against illegal rehris on the Chakrata Road, GMS Road, Saharanpur Road, EC Road and Rajpur Road here. The team impounded 10 rehris, a number of signboards and counters.
Corruption and Inflation
CPM to stage protest on Sept 28
Dehradun, September 20
Member of the Central Committee of the CPI(M) and Member of Parliament Tapan Sen, who was in the city to attend a two-day meeting of the state unit, flayed the UPA government for inflation and the West Bengal government for unleashing atrocities on Leftists.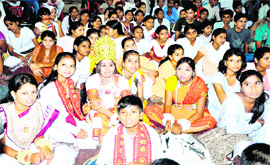 Bhagwandas mahavidyalaya, Gurukul Mahila Vidyalaya excel in Sanskrit cultural contests
Haridwar, September 20
Bhagwandas Sanskrit Mahavidyalaya and Gurukul Mahila Vidyalaya here excelled in the multiple Sanskrit cultural programmes organised by the Uttarakhand Sanskrit Sansthan which concluded here today at Saraswati Vidya Mandir Inter-College, Mayapur.

Students from Sanskrit school wait for their turn at the final day of the Sanskrit schools cultural competition at Saraswati Vidya Mandir, Mayapur, in Haridwar on Tuesday. Tribune photo: Rameshwar Gaur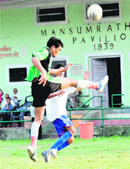 Akranta beat Balaji Club 2-0
Dehradun, September 20
Akranta surpassed Balaji Club 2-0 in a knock-out match of the Doon Callisto Football Tournament here today on the Pavilion ground. After the first-half ended on a goalless draw, all hopes were on the second half.





Players in action in the Doon Callisto Cup Football Tournament in Dehradun on Tuesday. Tribune photo: Vinod Pundir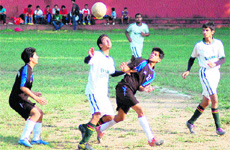 Jit Bahadur fashions Doon Valley Public School victory
Dehradun, September 20
Registering quarterfinal wins, Doon Valley Public School and Col Brown School today booked their semifinal berths in the 3rd ONGC Ram Bahadur Chhetri Memorial Football Tournament which is under way at Ambedkar Stadium here.


Players of Col Brown (in white) and Doon International School (in black) in action in a match in the Ram Bahadur Chhetri Memorial Football Tournament in Dehradun on Tuesday. Tribune photo: Anil P Rawat

20 complete YWCA certificate course
Dehradun, September 20
Twenty students of the Young Women Christian Association (YWCA), Dehradun, completed for their certificate courses here today. The chief guest of the graduation ceremony was Patricia Hilton, Headmistress of Hilton School, who presented the course certificates to the passing-out girls.