They have added life to their years
PK Jaiswar/Neeraj Bagga
Tribune News Service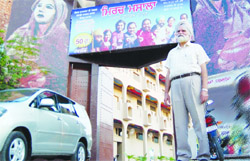 Theatre's crusader: Jatinder Singh Brar
Amritsar, September 30
As we celebrate International Senior Citizens' Day today, we salute two senior citizens of the holy city who chose not to lead a retired life and do something for society. While one of them, Jatinder Brar emerged as a torch-bearer for theatre artists, the other, PS Bhatty became a green activist.
At the ripe age of 66, Jatinder Singh Brar is a dramatist, Punjabi playwright, industrialist and, last but not the least, theatre promoter. He is acting as a catalyst for theatre activity. His tenacious approach for promotion of theatre has helped him to create a niche for theatre. Punjab Naatshala, situated opposite Khalsa College on Amritsar-Attari GT road has become a hub of theatre activity.
Brar has managed to wean away a large number of audience of the holy city from television and cinema to enjoy the live events in theatre. He started the Naatshala on World Theatre Day (on March 27) in 1998, singlehandedly on a chunk of his land. His close associates had written off the concept of opening a theatre as an archaic one that would find no takers here. On the contrary, an array of local, national and international theatre groups have staged thousands of plays successfully.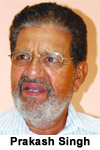 Brar's dream is to keep the Naatshala in tune with changing times. His visits abroad, especially to London, which is the international hub of drama, offer him the opportunity to learn about new changes being taking place in the ageold art. He strives to incorporate these changes in his theatre which is, at present, one of the state-of-the-art theatres in North India.
He recalled that in its early days, the Naatshala was an open-air theatre with a 60'x60' stage and trees in the background.
It had its own light-and-sound system equipped with electronic dimmers. Stress was given on offering well-maintained air-conditioned green rooms to the artistes. An eminent Punjabi playwright, Brar's plays expose social evils. 'Fasle', 'Kudesan', 'Mirch Masala' and 'Lohe Di Bhatti' are some of his famous plays. A workaholic, he has not allowed age to hamper his activity. With effective time management, he has fulfilled multple responsibilities. From morning till the evening, he devotes time to his Sharp Industry which manufactures components of combine harvesters. His future plan is to launch a cultural programme to showcase Punjabi culture, Sikh history and the history of the Golden Temple for tourists at the Naatshala.
A tireless eco-warrior
At the age when people think of retirement and prefer to rest or enjoy life, 72-year-old Prakash Singh Bhatty is striving hard to save the environment. His belief - "Nature is our lord divine" - is his motivation and this love for nature has earned him a name as an environment activist. He said, the only purpose of his organisation - Missionaries Khudai Khidmatgar - is to make amends and restore nature to its original state. "Man has caused great damage to nature in the name of development and our organisation is striving to make mends, repair and restore nature to its original state," said Bhatty.
After having retired from the Army after the 1965 war, Bhatty dedicated himself towards planting trees. He is credited with growing forests on vacant places, especially in the defence areas. For the last 40-years, he has planted more than 1.18 lakh trees in various areas, including Ferozepur, Bathinda, Rajasthan, in Aravalli region, Pathankot and Dhar block etc. Sharing his experiences he said he had some good experiences and some bad experiences. But he said overall he is satisfied with his works.
He said recently honoured by the state government for his contribution to the environmental causes. "I have had to approach the high court over several issues, including bringing in the solid waste management project," said Bhatty.