Three 'missing' youth located in custody of Jalandhar police
Megha Mann
Tribune News Service
Mansa, October 3
Three youngsters from the city, who were missing since Saturday night, were located in the custody of Jalandhar police today.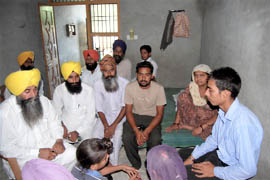 Relatives of the missing youth ponder over their fate in Mansa on Monday. A Tribune photograph
The family members of all three youngsters alleged that their sons were wrongly implicated and unlawfully picked up by the Jalandharpolice. "As per the protocol, any district police conducting arrests from jurisdiction of other's area should duly inform respective police. Mansa police has no knowledge of Jalandhar police picking up men from its area, which is very strange," said Gursewak Singh Jawarke, the national general secretary of SAD (Amritsar), who is supporting the affected families.
SSP Mansa HS Parmar said that the parents of one of the missing boys approached him saying that their son had gone to gurdwara and did not return. "Neither of the boys are wanted in Mansa nor we have any role in detaining them. We don not know that the Jalandhar police arrested these boys," said Parmar.
The arrested boys were hurled up youth in white colored vehicle and taken away, alleged their parebts.
Three youth have been identified as Kushaldeep Singh from Chand Singh Chahal street area, Gagandeep Singh from ward number 7 and Harman Singh from ward number 1. Two of these youngsters were picked from a juice shop near the bus stand. The shop is situated near Sewa Singh Theekriwala Chowk where cops are always on naka.
Meanwhile, SSP Jalandhar rural HS Mann said that the summoned youngsters have not been booked in any case. "They have been summoned as witness for evidence in a case wherein three people have been booked for unlawful activities," he said.
He added that on Saturday police registered a case against Jagjit Singh and Kulbir Singh from the UK and Parneet Singh from Jammu and Kashmir for carrying out unlawful activities in Punjab.
"The rounded up youth were being lured to join unlawful activities. They were in touch with the booked men through phone calls, internet and e-mails. The youngsters do not have any role to play in unlawful activities but were being prepared to spread terrorist activities," he added.
He said that the boys had voluntarily appeared before the Jalandhar police on being summoned.