Manak always stood by us, say his native villagers
Thousands expected to attend the legendary
folk singer's burial today
Megha Mann and Gurdeep Singh Mann
Tribune News Service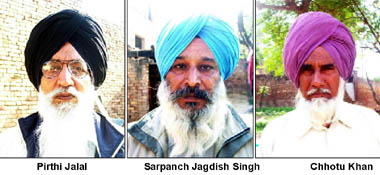 Jalal (Bathinda), Dec 1
As the villagers of Jalal mourn the death of their most celebrated hero Kuldeep Manak, they make preparations to ensure that everyone visiting village tomorrow get last glimpse of their hero.
A ground, situated on the outskirts of village, has been cleaned and prepared. Manak's body would be brought tomorrow at around 10 am and kept in this ground for people. "We are making all possible arrangements. The ground on the outskirts of the village has been cleared and so has been the burial ground. Either Maulvi from village Masjid or from Ludhiana would be conducting the last rites," said Rupinder Singh, one of the volunteers spearheading arrangements. Special arrangements have been made to hold langar (community kitchen) for around 3,000 people including people from all walks of life, who are expected to throng the village tomorrow.
Second of the three sons of village's Marasi family, Manak was gifted with the voice that struck right chord with masses. He studied at the village's Government Senior Secondary School, hich was just middle school when Manak studied. He studied till class-VIII before taking up singing as a career.
He started singing from the school assembly and graduated to becoming "Kaliyan Da Badshah," said the village sarpanch Jagdish Singh.
Manak a.k.a Latif Mohammad alias Ladha was well known as the young slim lad who moved around the village singing in his own masti. While the old building of his school stands intact, his name does not find any mention on the school's premises. "This is because we have no tradition of mentioning names of the old students in school. But everyone knows that Manak belonged to us," said Harvinder Singh, whose family donated land to build this government school.
Manak shifted from village to Ludhiana around four decades ago where he married a girl from village Rajgarh. "But he was never really gone from the village. He frequently used to visit all of us. Gradually, over the last seven years, the visits grew less in number and finally after the demise of his elder brother Sadiq Mohammad," said his cousin Chhotu Ram.
The Khan family has been living here since ages and is a part of the 6,500 population of the village. There are around 400 members of Muslim families living in this village known for its communal harmony. Most of the family members, like Chhotu Khan, make both the ends meet doing odd chores in village.
Villager Pirthipal Jalal, a transporter, added that Manak always made it a point to visit maximum number of his friends. "Be it be a happy occasion or a tragedy. We always found support in Manak," he said.