COLUMNS



THIS ABOVE ALL

TELEPROMPT

GOOD MOTORING

LIFE'S LESSONS

LEXICON

NETWATCH

FOR CHILDREN



CROSSWORD

RHYME TIME
Earlier Feature


TELEVISTA


AUDIO SCAN
Who says eve-teasing is not harassment
A serious crime against women is dismissed lightly by giving it a softer name, says Shoma A. Chatterji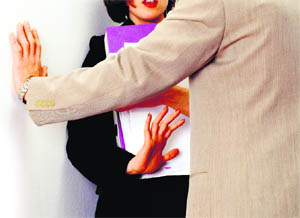 Eve-teasing and sexual harassment both victimise women more than men, as is evident in South Asian societies like India. The power hierarchy between the victimiser, mostly a man, and the victim, mostly a girl or a woman, is almost the same with the former using his power over the latter within patriarchy. Is it a gender-specific crime as is generally understood? Is there a difference in the power hierarchy implied that sustains between the victimiser and the victim in degree or in kind between the two? Should punishments in either case differ?
Guiding force
Dev Anand-starrer Guide effectively juxtaposes modern sensibility against age-old belief and prejudice, and desire against disillusionment. The film is a case study of Bollywood's 'success formula'
In the midst of volumes of accolades, the media is showering on the one and only Dev Anand following his passing away, it would be in context to reflect on the best film he gifted to Indian cinema from his production banner Navketan Films.
How to be a sensible party animal this festival season
It is always a great idea to be safe than sorry while enjoying a party. Keep these do's and don'ts in mind, writes Smiti Munwani
How are you going to say goodbye to 2011 and welcome the first rays of 2012? Maybe huddled in your blanket in front of the TV watching the world celebrate or partying with a small group of friends. If you are the partying kind then the New Year could herald a lot more to cheer about. The start of the year generally sees party animals warm up to clink the glasses. Are you fully equipped for all the action that is about to come?