To a query about Punjab Congress chief Capt Amarinder Singh's statement that he would ask Anna to campaign against "corrupt" practices of the SAD-BJP alliance in Punjab during his visit, Bhalla said:

"As per the directions of the senior members of Team Anna, they will campaign against those political parties, including Congress, who are in power at the Centre and are responsible for drafting any bill. As far as the corruption is concerned, no political party is devoid of it.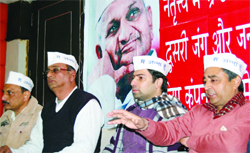 Members of the India Against Corruption address mediapersons in Amritsar on Monday. Photo: Sameer Sehgal

That's why, we want that a solid Jan Lok Bill with inclusion of C and D category of employees and the CBI or any other investigating agency under its purview should be passed to tackle corruption at every level."

Meanwhile, Bhalla said local volunteers of the India Against Corruption would also start three-day chain hunger strike in support of solid Lokpal Bill outside district administrative complex (DAC) from Tuesday. Thereafter, they would also start Jail Bharo movement from December 30 to January one, he added.

Sit-in from Dec 27

Members of the district chapter of 'India Against Corruption' would hold a three-day sit-in at Ram Bagh in Amritsar from December 27 in favour of Anna Hazare-initiated movement to enact 'Jan Lokpal Bill'.

A member Prabodh Chander Bali said two of their members would sit on hunger strike. He said that people from all walks of life could join the non-political demonstration. He said the members of the chapter would offer their arrest under 'Jail Bharo Movement' on December 30.