BJP fields old warhorses from Jalandhar
Kalia, Bhandari and Chunni Lal to contest from Jalandhar Central, North and West constituencies
Deepkamal Kaur
Tribune News Service
Jalandhar, January 3
Call it paucity of time or an attempt to rule out dissidence, the BJP has repeated all three candidates from Jalandhar for the forthcoming Assembly polls.
All three sitting MLAs, including former Local Bodies Minister Manoranjan Kalia from the Jalandhar Central, Chief Parliamentary Secretary KD Bhandari from the Jalandhar North and Deputy Speaker, Vidhan Sabha, Bhagat Chunni Lal from the Jalandhar West, have been chosen as the candidates to contest the polls.
Even as there were reports of Mayor Rakesh Rathour trying to grab a ticket from the Jalandhar Central constituency and later from the Jalandhar North constituency, he has remained unsuccessful in getting the chance.
Owing to this, Rathour and Kalia had been at loggerheads for quite sometime now. There also was a showdown between the two at an inauguration function two months ago. The Mayor had also carried out extensive rounds in the constituency in his preparedness for the polls, but it has proven to be a failure for him.
The fact that the MC started reeling under a severe financial crunch since June 2011 also perhaps proved disastrous for Rathour. There had been protests by the contractors time and again and various works proposed by him, including developing sports hub at Burlton Park, solid waste treatment plant at Pholariwal and Nehru Garden renovation project remained non-starters.
The Mayor's clean administrative moves and mannerism in dealing with the general public and his good contacts with MPs Navjot Sidhu and Anurag Thakur and Himachal Pradesh CM Prem Kumar Dhumal were seen as his positive facets.
Kalia, on the other hand, had made a good comeback even after being dropped from the Cabinet. He became the party's state spokesman and got actively involved in party affairs.
The biggest surprise for the residents was the repeat of octogenarian Bhagat Chunni Lal. Even as the Deputy Speaker tried his level best to seek a ticket for his son Mahinder Bhagat, his demand was not accepted. The senior Bhagat had remained inactive most of the time with his constituency having got least developed. The junior Bhagat, however, enjoyed his father's position. Vijay Sampla had tried to get the ticket from the seat but he too remained unsuccessful in his attempt.

Kalia's procession bane of commuters
Kusum Arora
Tribune News Service
Jalandhar, January 3
A visibly enthusiastic Manoranjan Kalia, the sitting BJP MLA from the Jalandhar Central constituency took out a grand procession to celebrate the party's decision to show faith in him.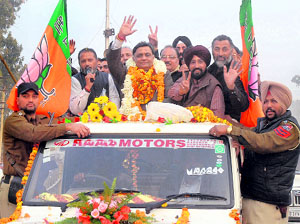 BJP leader Manoranjan Kalia arrives in Jalandhar after getting a ticket on Tuesday. Tribune photo: Malkiat Singh
However, commuters were at the receiving end as they were left stranded in a traffic jam. Kalia's took out the procession in violation of the election code of conduct.
Kalia along with a battery of his supporters in open gypsies, motorcycles and cars took out a procession from the busy Rama Mandi Chowk to his residence in the Central Town locality of the city. He was coming from Delhi after having been allotted the party ticket from the Jalandhar Central constituency.
His supporters in a long cavalcade of vehicles, decked up with party flags and posters shouted slogans on the beats of 'dhol' in favour of Kalia. His supporters included Subhash Sud, district president of the party, MC councillors and contractors.
Kalia was about to reach Rama Mandi Chowk at 2.30 pm, but was late by around 1 hour 40 minutes, leading to a traffic blockade. This brought the entire traffic from Ludhiana, Phagwara and Rama Mandi towards the city to a halt.
It was chaos at Rama Mandi chowk, where the BJP workers and Kalia's supporters had gathered in large number to accord him a warm welcome. Even Kalia was ecstatic and responded to the gusto of his supporters by waiving to one and all. Till late evening, party workers kept flocking his residence to congratulate him
When contacted, Jalandhar Central returning officer Iqbal Singh Sandhu said that Kalia had sought prior permission for the procession. He took permission of four loudspeakers and used just two of them. "Our video surveillance teams also recorded the procession of Kalia," he added.