PUNJAB

HARYANA

JAMMU & KASHMIR

HIMACHAL

REGIONAL BRIEFS

NATION

OPINIONS

LETTERS

BUSINESS

SPORTS

WORLD

Every Wednesday & Saturday

Traffic violations continue with impunity
Jammu, January 6
Schoolchildren packed in auto-rickshaws, pedestrians weaving their way around speeding vehicles on busy crossings, use of cellphones while driving and mini-buses picking up passengers from the middle of roads are a common sight in Jammu amid Road Safety Week celebrations.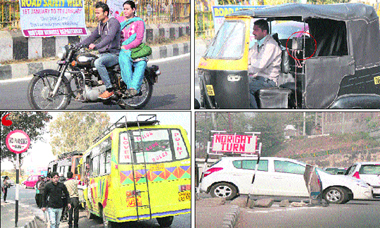 (

From clockwise

): A man rides a two-wheeler without a helmet on a road near the GMCH; an auto-rickshaw operates without a meter; mini-buses pick up passengers from the no-parking zone near Bikram Chowk; and a car driver takes a wrong turn near the MLA Hostel in Jammu. Tribune photos: Inderjeet Singh
CBI launches anti-corruption campaign through radio
Jammu, January 6
The Central Bureau of Investigation (CBI) has launched an anti-corruption campaign through Radio Kashmir Jammu and Radio Kashmir Srinagar in an effort to reach out to the masses and seek their inputs so as to curb the menace of corruption in various Central government departments in the state.
Autorickshaw drivers fleece passengers
January 4, 2011
Every second day, a life is lost on Jammu roads
December 28, 2011
State 'powerless' to battle winter chill
December 21, 2011
Members of panchayats resent govt move
December 17, 2011
SKIMS to treat hepatitis B, C patients
December 14, 2011
Rehabilitation of Kashmiri Pandit families delayed
December 10, 2011
Tawi river cries for attention
December 7, 2011
Poor facilities bane of neonatal care unit
December 3, 2011
School buses plying illegally in Jammu
November 30, 2011
Panchayats seek more say in their affairs
November 23, 2011
Government to discourage misuse of farmland
November 19, 2011
Misuse of red beacon vehicles goes on with impunity
November 16, 2011