Trivender, Umesh Sharma to test new turf
Neena Sharma/TNS

Dehradun, January 19
The stage is set for an interesting contest between the BJP's Trivender Singh Rawat and the Congress' Umesh Sharma on the new Raipur Assembly seat and only time will tell if Sharma emerges a giant killer or Trivender Singh triumphs by scoring a hat-trick, but from a new Assembly seat.
Before that, the candidates will have to surmount several hurdles, including altered boundaries, new voters and electoral dynamics requiring different set of poll strategies.
Trivender Singh Rawat, who was elected twice from the Doiwala Assembly seat, was forced to look for a new seat after the realignment and bifurcation of Doiwala seat. However, the MLA will also have to battle anti-incumbency factor as the new seat also comprises areas from his erstwhile seat.
"The sitting MLA only makes an appearance at the time of elections. I rarely met him during the last five years. The improvement in infrastructure in our area was undertaken by the Mayor," said Madhusudan, a resident of Mata Mandir.
The Raipur seat was created after bifurcating the Doiwala seat into Dharampur and Raipur Assembly seats. Now, the new seat comprises 40 per cent of the area of Doiwala and additional areas from the Rajpur as well. A total of 19 gram sabhas and 39 Municipal Corporation wards that were part of Doiwala have been added.
Besides, nine Municipal Corporation wards that were part of the Rajpur have also been included in the Raipur seat. It also includes nine slums called malin bastis.
The Congress has always banked on the voters living in the malin bastis, but after the BJP introduced a slum reorganisation policy, the BJP candidate is hoping to cut into the vote bank of the Congress.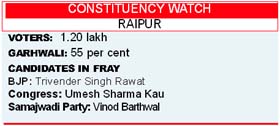 "I shifted base after a major portion of my erstwhile Doiwala seat was hived off to create Raipur seat. The slum policy announced by our government will help the poor get lease rights. I think this a major initiative of our government. As my area comprises large part of farmland. I would like to strengthen the hands of the farmer by introducing agriculture extension activities," said Trivender Singh Rawat.
Undaunted Congress candidate Umesh Sharma is banking on the work undertaken by him as Deputy Mayor and councillor. "I have good personal contacts with my voters and I am aware of their problems. I think the issue of caste certificates was not given the urgency it deserved. I will work towards its resolution," said Sharma.
Political analysts say during the general elections in 2009, the voters of this area played a decisive role in the victory of Vijay Bahguna, MLA from Tehri (Raipur is part of the Tehri parliamentary constituency). It remains to be seen if the honeymoon period continues for the Congress.