Poll confusion
Maheshinder's address listed by 'valid' voters in R'sthan
Archit Watts
Tribune News Service
Badal (Muktsar), January 25
Pritam Singh, Jagjit Singh, Bakhshish Singh and Jasvir Singh, all real brothers, are enrolled as valid voters at village Hakmabad of Sadulshahar (Rajasthan) but they would also cast their votes at Badal village of Lambi constituency on January 30, where the contest is between the three Badal brothers.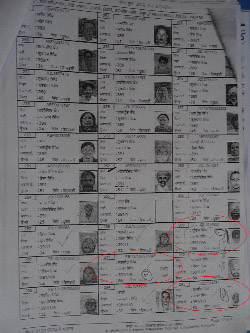 The voters' list of Punjab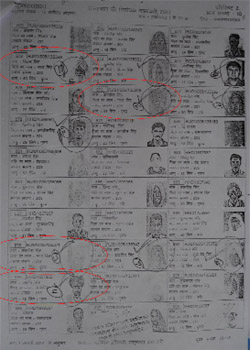 The voters' list of Rajasthan
As per the electoral rolls, procured by The Tribune (after the latest scrutiny on January 1, 2012), not only these four sons of Gava Singh, a large number of people having their "valid" votes in other nearby villages, have also been listed as voters at Badal village.
Interestingly, most of these voters in question have registered their votes at the address of the Congress candidate Maheshinder Singh Badal.
Maheshinder Singh Badal and his own family members have their votes in house number 391 and these questionable people have also shown house number 391/1/A as their residence.
Like Gava Singh's family, one Genda Singh, his wife Gurnam Kaur, son Jasvir Singh and daughter-in-law Sukhpreet Kaur, all residents of house number 113 at village Beedowali, have also listed their voter address as house number 392/1, village Badal.
Besides, one Jangir Kaur, also a voter of Beedowali village, has been made another voter at Badal village, mentioning house number 392/1/B, as her residence.
Similarly, Bhopa Singh, his wife Binder Kaur, sons Gursewak Singh and Manjeet Singh, all voters of Beedowali village, have been made voters at Badal village, giving their house number as 393.
Meanwhile, one Sukhpal Singh, Manjit Kaur and Jasvir Kaur of Kaljharani village in Bathinda district, have also got their votes registered at village Badal with the address given as 392/1/A.
The anomalies in the electoral rolls of this VVIP village do not end here. A number of voters from Mann village have also been made voters here.
When contacted, Maheshinder Singh Badal said, "All those persons who have been made voters on my residential address are my relatives. And as per my knowledge, Gava Singh's family has been made voters in Badal village alone. I am not aware whether they have votes in Rajasthan or not."
Sandeep Rishi, Returning Officer, Lambi, said, "We have not received any complaint in this regard, but we will definitely probe and prepare a list of such persons so that they do not cast their votes here."
He, however, added, "At this moment, a vote can't be cancelled. What we can do is to direct the polling staff not to accept their votes."