Exposing young to Odissi treat
Aparna Banerji
Tribune News Service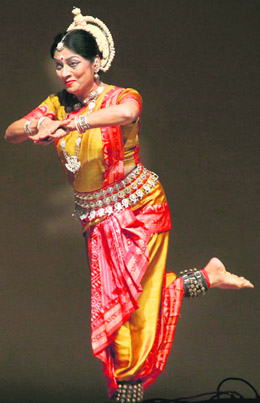 Odissi exponent Geeta Mahali presents a recital at the Kanya Maha Vidyalaya in Jalandhar on Friday. Photo: Sarabjit Singh

Jalandhar, February 3
A magnificent classical dance recital from Odissi exponent Geeta Mahali today exposed the students of Kanya Maha Vidyalaya (KMV) to an hour of grace and poise. The event was organised in association with Spic Macay.
It introduced students to a culture from another part of the country and the little briefings she gave on the microphone, kept them informed about her dance presentations and their origin and/or significance.
Dressed in mild peach, with the intricate Odissi head wear decorating her head, Mahali began with a little introduction about the origin of the dance form itself.
Traditionally performed by Maharis (a woman from the Mahir jagat, heavenly world, as the legend goes), Odissi was initially meant to perform for the Gods at the Jagannath Temple. Dancing for their deity Jagannath, these women spent their entire lives at the temple.
Little boys, called Gotipus, dressed as Radha and Krishna, usually accompanied these women during the dance.
Beginning with Manglacharan - a prayer dance to the holy deity - with an offering of flowers and then performed Bhoomi pranam and Trikhandi pranam.
Her second performance was Dashavatar, which signifies the Hindu deity Vishnu's coming to the earth in 10 avatars to destroy evil from the earth - Mashchavatar, Meenavatar, Kachap Avatar, Sukar Avatar, Narasimha Avatar, Baaman (dwarf) Avatar, Bhrugapati Avatar, Ram Avatar, Balaram Avatar, Buddha Avatar and Kalki Avatar.
Performed on the verses of Geet Govind penned by the 12th century poet Jaidev, the performance saw the performance taking varied hues and expressions as Mahali portrayed Vishnu's various Avatars.
Her first presentation - Mangalacharan and the pranams were steeped in grace and poetry.
As she transformed from one avatar to another, her face depicted various shades of the different moods, ranging from anger to strength and humility.
Excerpts from an interview with Geeta Mahali:
What made you chose Odissi of all dances?
Geeta Mahali: I was born and brought up in Orissa so I was attracted to Odissi since childhood. The dance form was my first love and never even thought of taking up any other dance form. My Gurus Guru Deb Prasad Das and Guru Mayadhar Rao taught it to me and from early on, I never perceived it as a challenge.
Odissi's origin is very spiritual, did you ever have a spiritual experience while practicing and performing it?
When I was small, I never perceived it as a spiritual experience. But as I grew up, learned more about it and got acquainted to its spiritual connotations, I began perceiving it as a more and more religious experience, especially when I performed it deeply, from the core of my heart.
Do you think today's generation perceives and celebrates dance in the way your generation did?
These days, students pick up dances because they are pushed into learning dance by their parents. While very few are genuinely interested, 70 per cent students just learn the dance and understand the emotional and loftier aspect of it as they grow up. Though I have come across students who have followed me from one venue to another just to see a different aspect of my recital, such keen lovers of dance make me happy.
Do you worry about the state of Odissi or decreasing popularity of classical dances compared to other modern dances?
No. In fact I have recently been seeing that many people are switching over to Odissi from other dance forms. It is very popular and a plethora of people take interest in it. Rather it was less popular earlier. Now it has a number of takers.
What is so special about it that people switch over to it from other dances?
It is a beautiful dance form and is poetic.
What are your future plans?
I am currently working on a production called Antim Prashna which will be showcased soon.