Woman among 3 held for smuggling
The accused, including a woman conduit, belong to two gangs dealing in arms, drugs
PK Jaiswar
Tribune News Service
Amritsar, February 13
The city police today claimed to have busted two gangs allegedly involved in the smuggling of arms and contraband from Rajasthan and Uttar Pradesh. The accused allegedly sold these arms to anti-social elements enaged in criminal activity in the city.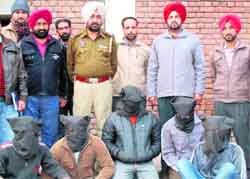 Due to easy availability of arms, petty criminals have turned into dreaded ones who even did not hesitate to physically assault victims which may even lead to deaths.
One of these gangs was headed by Ramesh Kumar alias Danny who was arrested by the police with heroin and fake currency and is languishing in Amritsar Central Jail. He was operating the gang from the jail premises under the very nose of the jail authorities.
Police Commissioner RP Mittal said acting on a tip off the police arrested Sukhbir Singh, a resident of Baswana village in Bathinda, Narinder Singh of Dhulka village and a woman identified as Seema alias Billi, who runs a beauty parlour in the Ranjit Avenue area here. They were caught from the A-block of Ranjit Avenue. The police has also seized three country-made pistols, four live cartridges and 200 gram of opium from their possession.
During preliminary investigations, it also came to light that the accused had bought the pistols worth Rs 15,000 each and opium worth Rs 9,000 from Rajasthan. They used to sell the same to miscreants at Rs 40,000 and 30,000, respectively. He said Seema was worked a conduit between Ramesh, Sukhbir and Narinder.
He said Ramesh Kumar will be questioned further on a production warrant. A case under Section 18/61/85 of the NDPS Act and 25/54/59 of the Arms Act has been registered against them at the Civil Line police station in this connection.
Five robbers held
In another incident, the police arrested five members of a gang who used to rob innocent people besides selling indigenously-made arms to criminals. They procured the same from Shahzahanpur in UP. The accused include Narinder Kumar of Mustafabad, Manjit Singh of Ramgarh village in Kapurthala, Balwinder Singh of Bahadur Nagar, Sahil Kumar of Gawal Mandi and Mohit Kumar of Ram Nagar Colony. One of their accomplices identified as Jasbir Singh fled from the spot.
The police has seized four pistols, 200 gram of charas, 350 gram of narcotic powder, six mobile phones and a car from their possession.
Mittal said the accused were arrested with the car on the road leading to Jahajgarh area from Chamrang Road following a tip off.
Narinder Singh, who is physically challenged as he does not have both his legs, used to buy arms from Sunil Kumar Yadav, a tea vendor outside Shahzahanpur railway station.
"Being physically challenged, he took advantage of sympathy from people and smuggled arms. He sold the same to anti-social elements active in the city," said Mittal. Similarly, Sahil used to procure arms from Nikhilesh Kumar of Bihar. Further investigations were under progress and more recoveries as likely to be made, he added. A case has been registered at B-division police station in this regard.