Badal, 84, sworn in Punjab CM for record fifth time
Naveen S Garewal/TNS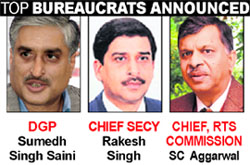 y Cabinet: Badal does the balancing act
y New excise policy announced
y Manpreet, Cong leaders stay away from swearing-in
Chandigarh, March 14
Parkash Singh Badal was today sworn in as the Chief Minister of Punjab for a record fifth time. His son and Shiromani Akali Dal president Sukhbir Singh Badal took oath as the Deputy Chief Minister.
Sixteen other legislators took the oath of office and secrecy and allegiance to the Constitution as Cabinet ministers to run the Punjab Government for the next five years.
With this, Badal becomes the oldest and the most experienced Chief Minister in the country. He will be the leader of the House in the 14th Punjab Vidhan Sabha that will meet for the first time on March 19.
He was the first to take oath at the Banda Bahadur Memorial at Chappar Chiri, 15 km from Chandigarh, by Punjab Governor Shivraj Patil.
The 18-member Punjab Cabinet has 14 ministers from the SAD and four from the BJP, its pre-poll alliance partner.
The swearing-in ceremony was attended by thousands of supporters and political leaders from across the country. Leaders from Sant Samaj, which was part of the SAD-BJP alliance, were given special attention and were made to sit on a stage.
The Cabinet is a single-tier one with all ministers being granted Cabinet rank. Among these 18, four ministers each are from Majha and Doaba regions. while Malwa has 10 ministers, including the Chief Minister and the Deputy Chief Minister. The distribution of ministries is based on the region-wise proportion of constituencies in the state.
The ministers from Majha who were sworn in today are Adesh Partap Kairon, Bikramjit Singh Majithia, Anil Joshi and Gulzar Singh Ranike. Doaba is represented by Jagir Kaur, Ajit Singh Kohar, Sarwan Singh Phillaur and Bhagat Chuni Lal.
The 10 ministers from Malwa are the Badal father-son duo, Madan Mohan Mittal, Parminder Singh Dhindsa, Janmeja Singh Sekhon, Tota Singh, Surjit Kumar Jyani, Sikander Singh Maluka, Surjit Singh Rakhra and Sharanjit Singh Dhillon.
Badal and Sukhbir arrived on time (at 11 am) from two opposite sides and spent a few minutes meeting guests and supporters who were already seated. In the background, Guru Gobind Singh's "Dey hey Shiva var mohey hai, shubh karman sey kabhi na daroon" clearly conveyed the state government's positive commitment to take Punjab ahead.
The ceremony was started by Punjab Chief Secretary Sabodh Chander Aggarwal. When he declared the ceremony closed, the sky over the venue was filled with fire crackers.
The ceremony was attended by various political leaders including former Deputy Prime Minister LK Advani, convener, NDA, and Janata Dal (U) president Sharad Yadav, BJP chief Nitin Gadkari, Gujarat Chief Minister Narender Modi, former BJP chief Rajnath Singh, Himachal Pradesh Chief Minister Prem Kumar Dhumal, BJP leader Shanta Kumar, former Haryana Chief Minister Om Parkash Chautala, Union minister Praful Patel, former Chief Minister of Rajasthan Vasundhara Raje Scindia, Delhi BJP leader Vijay Goel, Karnataka PWD Minister CM Udasi, AIADMK MPs Thambi Durrai and Dr Maitre, BJP MP Anurag Thakur, Jharkhand Chief Minister Arjun Munda, former Canadian MP Ruby Dhalla.
As Chief Minister and Deputy Chief Minister took their oath in Punjabi, their family members, including MP Harsimrat Kaur Badal along with her kids, witnessed the ceremony.
Bikram Singh Majithia, who was caught in a traffic jam, made it to the venue riding pillion on his PA Kartar Singh's motorcycle. All new Cabinet ministers made it a point to get the blessings of Parkash Singh Badal after they were sworn in.
Parkash Singh Badal, Sukhbir Singh Badal and Bikram Singh Majithia went to the stage to seek the blessings of Sant Samaj chief Harnam Singh Dhumma and other religious personalities. Baba Dhumma honoured them with siropas (robe of honour).