M A I N N E W S
Won't bail out Kingfisher, says govt
Suresh Dharur/TNS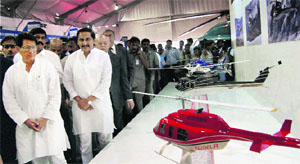 Civil Aviation Minister Ajit Singh and AP Chief Minister N Kiran Kumar Reddy at the India Aviation 2012 exhibition in Hyderabad on Wednesday. — PTI
Hyderabad, March 14
The government today ruled out the possibility of bailing out the beleaguered Kingfisher Airlines, saying it was for the private promoter to marshal funds to bring the carrier out of the financial crisis.
"The government cannot and will not bail out private companies. However, this does not mean that we want private airlines to close down," Civil Aviation Minister Ajit Singh said. He was speaking to reporters after inaugurating the India Aviation 2012, the third edition of international Civil Aviation Exhibition and Conference at Begumpet Airport.
Asserting that there was no ambiguity in the government's thinking, the minister said Kingfisher Airlines was a private organization and his ministry would intervene only when its flight operations were below the stipulated number.
"The Directorate General of Civil Aviation is looking into the cancellation of flights by Kingfisher and the government will act after receiving its recommendation in a day or two," Singh said.
He, however, struck an optimistic note on Air India, the troubled national carrier. A restructuring package proposal would be put up before the Cabinet this week to help the carrier tide over its present financial problems. The package envisages capital infusion of Rs 6,500 crore and conversion of a part of its short-term loans into long-term loans.
Projecting a bright future for the Indian aviation sector, despite the present turbulence, the minister said: "In order to attract foreign investors, we are allowing 100 per cent FDI in Greenfield airports under the automatic route to facilitate world-class airports in the country."
An appropriate economic regulatory framework for future airports was also being worked out to attract investments and ensure their viability, he said.
The global routes would be opened up for domestic private airlines as part of initiatives to help the sector stem financial bleeding. Other initiatives underway include allowing airlines to directly import Aviation Turbine Fuel (ATF) and opening up FDI in the domestic sector.
"Increasing international traffic rights can help private carriers eliminate some of their financial problems, as international routes are more profitable," Singh said.
This year, about 500 to 600 new international flights will be opened up to private carriers, with new destinations such as Uzbekistan, Egypt, Ethiopia and Vietnam. On Aviation Turbine Fuel, he said while fuel constituted 20 to 25 per cent of the cost of operation of airlines in the US, in India it was more than 40 per cent. He, however, said it would take some more time for Indian carriers to directly import ATF, as oil companies needed to scale up the infrastructure required.

More flights cut; Mallya to meet pilots today
Shiv Kumar/TNS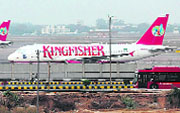 Mumbai, March 14
Troubled Kingfisher Airlines today slashed more flights with the management curtailing international routes ostensibly to cut costs.
"We are curtailing our wide-body overseas operations that are bleeding heavily," a statement released here said. Kingfisher Airlines said it had returned one Airbus A330-200 to its lessor in the UK. Flights to London, Singapore and Hong Kong are being suspended, according to sources.
Early this morning, Kingfisher Airlines put out a statement saying it was apologising to passengers for cancellation of services. The statement said, the airline was cancelling some flights and clubbing others as pilots and other staffers who haven't been paid for months have struck work.
Kingfisher which used to operate 460 flights every day before the crisis began reduced the number of flights to 175. However after the pilots went on strike from Monday, the number of flights operated have fallen to around 100, say sources.
According to the airline, promoter Vijay Mallya will meet with striking pilots in New Delhi tomorrow in a bid to pacify them.
Meanwhile, British Airways said today that it had suspended its code-sharing agreement with Kingfisher last week. Kingfisher Airlines also stated that tennis star-turned-actor Vijay Amritraj had resigned from its board. He is the fifth director leave in recent times. According to reports, Kingfisher has now been left with just four directors.