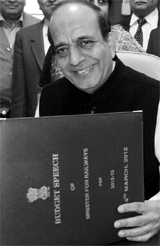 When I look at the list of illustrious leaders who have donned the mantle of Indian Railways right from Asaf Ali to Lal Bahadur Shastri, to Jagjivan Ram ji, to Gulzari Lal Nanda, Kamalapati Tripathi, Madhu Dandavate to Mamata Banerjee, I find myself nowhere near their stature. But I have tried to take lessons from history and from their contribution. I am grateful to Mamata Banerjee for giving vision to the Railways in her Vision 2020 document, which has guided me immensely in framing the roadmap.
When I took oath on July 12, 2011, as Minister of Railways, the Railways had just been overtaken by an unfortunate accident at Fatehpur Malwa, near Kanpur, on July10, 2011. I had rushed to the site, instead of going to Rail Mantralaya. The intensity of pain experienced by the passengers and their relatives continues to haunt me and I have spent sleepless nights. At that very moment, I took a vow to eliminate recurrence of such painful happenings and decided that my entire emphasis is going to be on strengthening safety, safety and safety. Death on rail tracks just can never be tolerated.
I would like to reiterate my belief in the phrase, "Safety never sleeps", as emphasised by Mamata Banerjee all along. I believe safety has to be benchmarked against other modern railway systems in the world, be it in Europe or Japan, with no deaths due to accidents for decades together.
The commitment made in 2001 to reduce accidents per million train km from 0.55 to 0.17 has been achieved. However, our target should be zero death. However, funding is an issue which needs to be collectively addressed.
Benchmarking safety
In order to achieve even higher safety standards, I decided to set up a committee to examine the current standards of safety and suggest suitable benchmarks. Dr Anil Kakodkar headed this High-Level Railway Safety Committee, which submitted its report on February 17, 2012, and recommended far-reaching measures and safety protocols.
In line with the recommendations, I propose to set up an independent Railway Safety Authority. Since research and development are central to safety enhancement, I also propose a Railway Research and Development Council.
Safety and modernisation are two sides of the same coin. At the same time, modernisation cannot take place without financial resources and professionalization of manpower. Therefore, I had set up yet another Expert Group headed by Sam Pitroda on modernisation and resource mobilisation. The group submitted its report on February 27, 2012, and provided a blueprint for the next five years. Recommendations of the group entail an estimated investment of Rs 5.60 lakh crore.
There has been considerable criticism of the Railways in regard to only partial implementation of recommendations of several committees set up in the past. The Safety Committee has also observed that the Railways suffers from an "implementation bug".
The Expert Group for Modernisation of Indian Railways has recommended implementation of the modernisation programmes following a "Mission Mode" approach, with clear objectives, measurable milestones, tangible deliverables and well-defined timelines. I have decided to create missions headed by directors in each of the identified areas for a three-year term. In addition, a high-level committee will be set up to facilitate coordination among the missions and address bottlenecks.
The Approach Paper of the Planning Commission to the 12th Plan envisages an investment of US$1 trillion in the infrastructure sector, with half the investment, or Rs 25 lakh crore, expected from the private sector, and the remaining Rs 25 lakh crore from government resources. I believe the Railways, being a key transport and infrastructure sector, must attract at least 10 per cent of the government share of investment, i.e., about Rs 2.50 lakh crore during the 12th Plan.
I intend to align the Railways' investment in the 12th Plan with the recommendations of the two committees. The investment proposed at Rs 7.35 lakh crore represents a quantum jump over the investment during the 11th Plan of Rs 1.92 lakh crore.
The concern of safeguarding our borders also needs to be addressed. The geo-political situation arising out of building of state-of-the-art road and rail network by neighbouring countries requires a matching response. There is also an emergent need to connect the remote and backward areas to foster growth. Besides, there are projects of national importance in the NE region and Kashmir.
Pending projects
The Railways have a large basket of pending projects. A total of 487 projects of new lines, gauge conversion, doubling and electrification with a throw-forward liability of over Rs 1 lakh crore have already been approved by this House in the past and are at various stages of execution. With inadequate budgetary support, most of these projects cannot be completed in time.
A budget is not just numbers. It involves policy pronouncements and defining goals along with a credible roadmap. The choice before me was either just to keep the system dragging or build a new, safe and modern transportation system that would contribute at least 2 to 2.5 per cent of the GDP, as against less than 1 per cent at present. I have chosen the latter. With this, the Railways would become an even more powerful engine of growth. This would require a multi-pronged approach. Therefore, in this budget I have focussed on i) safety; ii) consolidation; iii) decongestion and capacity augmentation; iv) modernisation; and v) bringing down the Operating Ratio from 95 per cent to 84.9 per cent in 2012-13 and to 74 per cent in the terminal year of the 12th Plan, which would be an improvement over the best ever achieved by the Railways. These would need to be supported by a sustainable financial model.
Opportune moment
There cannot be a more opportune moment to formulate a long-term plan, now that we are at the threshold of finalising the 12th Plan. I intend to follow a carefully thought out plan for at least five years, within the overall perspective of Vision 2020. The budget for 2012-13 would seamlessly integrate with the 12th Plan and Vision 2020 document of Mamata Banerjee.
A huge sum of Rs 14 lakh crore is required in the next 10 years. Given the constraint of funds even to meet the day-to-day operational expenditure, I have a Himalayan task of running the Railways safely. I had two very clear yet contrasting options — either to keep the Railways in status quo mode with just incremental annual changes, or, as the phrase goes, 'bite the bullet'. The second option would involve going for a generational change with a focus on safety and inclusive growth to meet the aspirations of this great country in the next decade. I chose the generational change, inspired by Kabi Guru Rabindranath Tagore: "Where the mind is without fear and the head is held high."
To understand the aspirations of the people, I visited several states along with Board Members. I interacted with chief ministers and MPs. In my eight months as Railway Minister, I have received 5,741 requests, including requests for new lines, doubling and gauge conversion, ROBs/RUBs, electrification, manufacturing facilities, new trains, train stoppages, and miscellaneous subjects such as transfers.
I have tried to provide something to meet the aspirations of the people within the available resources.
Symbol of unity
Just as we cannot imagine India without the Himalayas, we cannot imagine India without the holy river Ganga. Similarly, we cannot imagine India without Indian Railways. The Railways is the symbol and substance of India's unity. The Railways has its wheels on earth, not in the sky or just urban streets. If we do not strengthen the Railways, we weaken our country. That is why I believe it is the collective responsibility of Parliament to make the Railways amongst the best in the world. This means national investment. So the time has come to think of a national railway policy, just as we have one for defence and external affairs.
While the world is grappling with the problem of dealing with a flat economy, India has remained in a healthy growth mode. The world is looking towards India and the huge potential it possesses to act as an engine of growth. On a somewhat smaller scale, what India is to the world, Indian Railways is to the Indian economy. Therefore, if I may be permitted some immodesty, Indian Railways has a very critical role in catalysing growth for the world economy. India cannot sustain its GDP growth unless the Railways grows 10 per cent annually.
Drawing from the Kakodkar and Pitroda committees' recommendations, I have chosen five focus areas: a) tracks; b) bridges; c) signalling and telecommunication; d) rolling stock; and e) stations and freight terminals.
The budgetary support to the Railways has been pegged at a modest Rs 24,000 crore, as against a projected requirement of Rs 45,000 crore.
Budget estimates
The Railways is targeting to carry 1,025 million tonne of revenue earning originating traffic during 2012-13, which is 55 million tonne more than the revised estimate target of 970 million tonne. The freight earnings target has been kept at Rs 89,339 crore, a growth of 30.2 per cent over the current year revised target. The number of passengers is expected to increase by 5.4 per cent in 2012-13 with increase in number of trains and higher occupancy. The passenger earnings have been kept at Rs 36,073 crore, an increase of Rs 7,273 crore over the revised estimates of the current year.
The Railways has been facing considerable criticism, much of it unwarranted, for its present financial situation. The budgetary support from the government has not been at the levels required. Yet it is my duty to address the issues. I have had a hard look at the revenue model available and have realised the true import of the dictum, "One who does not help himself, is helped by none".
I have been under tremendous pressure from all quarters, including staff, parliamentary committees, MPs, media and even rail users, to address inadequate resource generation. They have questioned as to what is restraining the Railways from raising resources internally.
The input costs have been going up. The impact of the Sixthth Pay Commission is well known. Fuel prices have increased by more than 50 per cent during the past decade. During this period, the cost of passenger transportation by road has increased manifold. Consequently, a large chunk of short-distance passenger traffic has got diverted from road to rail, creating additional pressure.
"Kandhe jhuk gaye hain/ kamar lachak gayee hai/ bojha utha kar/ bechari rail thak gayee hai/ railgari ko nayi dava, naya asar chahiye/ is safar mein mujhko apsa hamsafar chahiye."
Therefore, I have been counselled to go for a steep increase in passenger fare, as there has been no increase for the last almost eight years. However, guided by concern for the aam admi, I have desisted from any steep increase.
So far, earnings from the freight traffic have been subsidising passenger traffic. This model of heavy cross-subsidy is not sustainable. If this continues, the Railways may lose freight traffic to road.
There has been a demand for setting up an independent Railway Tariff Regulatory Authority to suggest tariffs. This is an important area and needs debate. I am, therefore, appointing a body of experts to examine this.
The proposed adjustments [in fares] do not even cover the impact of increase in fuel prices during the past eight years. I am keeping the valuable passengers insulated from the burden of increase in staff costs.
I seek to create a partnership with my passengers and I assure the House that the additional revenue will help the Railways provide better, cleaner and safer services.
Before I end my speech, I would just wish to say: "Railgari ki chhuk chhuk mein hi/ aam aadmi ki dhak dhak hai/ railgari ki barkat mein hi desh ki barkat hai/ railgari ko kuchh dular ki zaroorat hai/ thoda rahat thodi chahat thode pyar ki zaroorat hai/ railgari ki chhuk chhuk main hi/ aam aadmi ki dhak dhak hai."