M A I N N E W S
On 100th anniversary, Bihar gets state anthem, prayer
Sanjay Singh/TNS
Patna, March 22
Bihar yesterday got its own state anthem and state prayer. Chief Minister Nitish Kumar released CDs featuring these here yesterday at a press conference that was attended by all his ministers.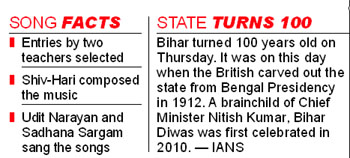 Earlier, a special Cabinet meeting declared the selected songs as "Bihar Gaan" and "Bihar Prarthna Geet".
The state government has prepared around 1 lakh CDs of both songs. These will be distributed free in 76,000 schools across the state, informed the Chief Minister.
The exercise to have a state anthem and a prayer specially for Bihar had been on for the past many months. The state government had invited entries from singers, writers and the general public.
Out of 1,500 entries, the selection committee shortlisted 96 for the state anthem and approximately 50 for the state prayer.
Chief Minister Nitish Kumar made the final selection after hearing all the shortlisted ones.
Bollywood's renowned duo Shiv-Hari (Shiv Kumar Sharma and Hari Prasad Chaurasia) composed the music. While Udit Narayan and Sadhana Sargam sung the state anthem, Udit Narayan gave his voice to the state prayer.
The lyrics of the state anthem have been written by a Patna-based poet, Satya Narayan, who is a history teacher and state government employee.
A teacher at a Urdu middle school in Muzaffarpur district, MR Chisti, has written the state prayer "Meri raftaar pe suraj ki kiran naaj kare".