PUNJAB

HARYANA

JAMMU & KASHMIR

HIMACHAL

REGIONAL BRIEFS

NATION

OPINIONS

LETTERS

BUSINESS

SPORTS

WORLD


EDUCATION

JOBS & CAREERS

HEALTH & FITNESS

SCIENCE & TECHNOLOGY

REAL ESTATE
Tribune analysis
Army Chief's Age Row



A matter of Honour vs Propriety


The second big anomaly


The Twist in the Tale


The General's Gambit


The General gives his 'word'


A matter of propriety vs integrity
Friday, March 23, 2012, Chandigarh, India
Edition update time 2:30 am (IST)


Latest news, updated at 5:15 pm
Partial rollback of rail fare hike
New Delhi, March 22
Mamata Banerjee's chosen Railway Minister Mukul Roy promptly repaid her debt at the first opportunity today by rolling back the hike - announced recently by Dinesh Trivedi in the Rail Budget - in train fares for not just the general second class, but also for AC chair car and AC three-tier sleeper classes.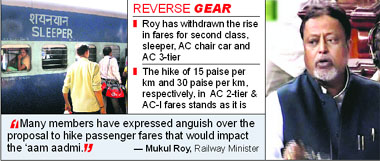 Trade winds
India joins West to vote against Lanka on 'war crimes'
New Delhi, March 22
Faced with intense pressure from political parties in Tamil Nadu, the UPA government today voted in favour of a US-initiated resolution at the UN Human Rights Council (UNHRC) in Geneva, urging Sri Lanka to 'credibly investigate' allegations of rights violations during the prolonged conflict against Tamil Tigers, a move which could have a bearing on relations between the two South Asian nations.
Rajoana execution: Punjab looks for a way out of tangle
Patiala, March 22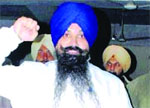 The Punjab Government seems to be buying time in persuading Balwant Singh Rajoana, the assassin of former CM Beant Singh, to challenge the death sentence against him.

A file photo of Balwant Singh Rajoana

Pak closer to giving MFN status to India
The Ministry of Commerce here on Wednesday issued the Statutory Regulatory Order (SRO) for switching over to negative list regime to trade with India. According to the notification, as many as 1,209 items have been included in the negative list and would not be importable from India to Pakistan.