4 villages of Bathinda dist show the way
* State govt to reward Karamgarh Shatran, Bhagu, Kotguru & Rajgarh Kube villages with a cash prize of Rs 1.5 lakh each
* The villages had more number of girls than boys in the age group of 0-6 years during the six-year block 2006-11
Sushil Goyal
Tribune News Service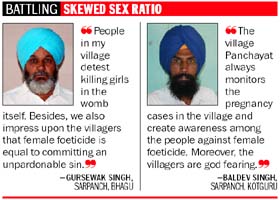 Bhagu/Kotguru (Bathinda), April 1
Four villages of Bathinda district will be rewarded for having more girls than boys in the age group of 0-6 years during the six-year block 2006-11. The state government selected these villages this year and will award them a cash prize of `1.5 lakh each.
The villages are Karamgarh Shatran having 85 girls and 52 boys, Bhagu (85 girls, 58 boys), Kotguru (136 girls, 125 boys) and Rajgarh Kube (135 girls, 134 boys). The Panchayats of these villages will be honoured at a state-level function soon.
As per the 1991 Census, the number of girls against 1000 boys (0 to six years) in Bathinda district was 860. In the 2001 Census, it reduced to 785. However, it increased to 854 in the 2011 Census report.
The child sex ratio (0-6 years) in Punjab is 846 as per the Census report 2011.
The Bathinda Tribune team visited Bhagu and Kotguru villages and spoke to the Sarpanches and residents of the two villages.
At Bhagu village, one Kheta Singh (65) said he had three granddaughters (six years old, two years old and eight months old) and a seven-year-old grandson, but his family never went for sex determination, let alone resorting to female foeticide.
Bhagwan Kaur (75) said the villagers did not believe in killing unborn girls, due to which their number as compared to boys (0 to 6 years) had increased.
On a visit to the Government Elementary School, Bhagu, TNS noticed that the number of girls in Classes 1 and II was more than boys. While Class 1 had 19 girls and 11 boys, there were 30 girls and 27 boys in Class II.
The village Sarpanch, Gursewak Singh, said people in his village detested killing girls in the wombs. Besides, they also convinced the villagers that female foeticide was equal to committing a sin. He said with the prize money of `1.5 lakh, they would construct a room in the High School there, which would help them in upgrading it to senior secondary.
At Kotguru village, Sarpanch Baldev Singh said the Panchayat always monitored the pregnancy cases and created awareness among the people against female foeticide. He said his wife was an ASHA worker in the health department and she inspired people to combat female foeticide. Besides, the villagers were God fearing, he added.
A resident of the village, Sadha Singh, said he had four sons, who further had eight daughters and four sons, but they too did not ever think about going for sex determination tests as they considered girls as good as boys.
The Sarpanch of Karamgarh Shatran, Narinder Singh, said in his village people feared killing girls in wombs as they considered the act as an unpardonable sin.
The Sarpanch of Rajgarh Kube, Naib Singh, said the 'Nanhi Chhaan' campaign had played a role in the increase in the number of girls in his village. He claimed that during the last three-four years, no one from his village went for sex determination test.