No quality check, monitoring of water in city
GS Paul
Tribune News Service
Amritsar, April 4
The quality of water supplied to houses here is completely unmonitored. And the Municipal Corporation has got no scientific system to treat or check the quality of water.
Though the water supply network in the holy city has reached 80 per cent houses here, the system of distribution and maintenance, which exists for decades, is poorly maintained. In most of the localities, the water supply gets mixed with the sewage because of breakages of pipes.
In some low-lying areas, people have illegal openings below meter lines even with plugs remain opened. During the rainy season and in case of blockage of sewer lines, sewer and rainwater get mixed in water supply lines.
As far as the treatment is concerned, the water is treated through a system of chlorination or by adding bleaching powder at the level from where the water is extracted.
Officials said bacteriological test is conducted occasionally to determine the level of bacterial contamination and bleaching powder is used to disinfect water, but this practice is not carried out in accordance with the BIS, 1991, (clause 3.1) (ISI-10500) standards.
Interestingly, the MC tried to engage private firms for water quality and tests in 2010. Even three firms came forward to do the task for Rs 10 lakh, but later the proposal was scrapped due to official rigmarole. Till date, the proposal has been gathering dust in the files.
Nevertheless, the source of water supply is groundwater, which is extracted through tubewells and supplied to the residents through a system of overhead reservoirs.
Initially, water supply in the walled city was based on a network of 40 khuhs (wells) located outside the city through which water was extracted and supplied through a well-designed and properly laid down network.
Over a period of time, a number of tubewells have been installed to extract groundwater and meet the increased needs of its residents. There are 310 tubewells installed here. This has resulted in the rapidly-falling water table.
About 10 years ago, the groundwater was available at a depth of 45 to 55 feet. Now it is available at a depth of 60 and 80 feet. The officials said the groundwater level on an average is declining by around one foot with each passing year.
In addition to piped water supply, hand pumps, stand posts and wells are also used to extract groundwater essentially in the slum areas and the areas not covered by the water supply network.
Key issues
20 per cent of the population and area not covered by water supply network.
Out of date network; high wastage due to water leakage.
Absence of water treatment plant and check on quality of water. Large number of illegal connections.
Hepatitis A and E besides Gastroenteritis are the major diseases that are reported in various parts of city especially the urban slum areas of Maqboolpura, Sultanwind village, Mustafabad, Islamabad, Kot Khalsa, Nawa Kot, Faizpura, Navi Abadi and various areas at Majitha and Batala road. The reason for spread of Hepatitis A, E and gastroenteritis are poor sanitation conditions and water contamination.
Testing standards
Bacteriological test, which is conducted occasionally to determine the level of bacterial contamination, but this practice is not carried out in accordance with the BIS, 1991, (clause 3.1) (ISI-10500) standards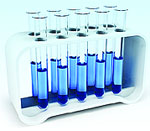 MC proposal gathering dust
The Municipal Corporation tried to engage private firms for water quality and tests in 2010. Even three firms came forward to do the task for Rs 10 lakh, but later the proposal was scrapped due to official rigmarole. Till date, the proposal has been gathering dust in the files