Bathinda Suwidha Centre gets ISO certification
After the Ferozepur Suwidha Centre, this is the second centre in the state to have got the certificate
Sushil Goyal
Tribune News Service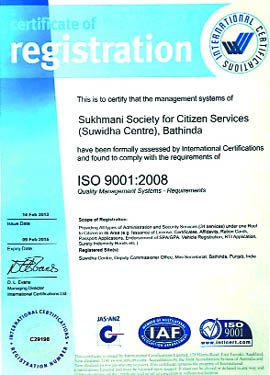 The ISO certificate issued to the Suwidha Centre, Bathinda, for quality management systems and requirements. Tribune photos: Pawan Sharma
Bathinda, April 18
After passing through four to five month-long process, the Suwidha Centre, situated on the premises of the Mini-secretariat here, has now finally got the International Organisation for Standardisation (ISO) Certificate (ISO-9001:2008 Quality Management Systems - Requirements).
After the Suwidha Centre of Ferozepur, the Bathinda Suwidha Centre is the second such centre in the state to have got the ISO certification on the basis of its quality management systems and requirements, needed for getting the ISO certification.
In the certificate, the issuance authority has mentioned 'This is to certify that the management systems of Sukhmani Society for Citizen Services (Suwidha Centre), Bathinda, have been formally assessed by international certifications and found to comply with the requirements of ISO 9000:2008 Quality Management Systems - Requirements'.
The local Suwidha Centre has been providing over 35 services under one roof to the residents of the area. The services include issuance of licences, certificates, affidavits, ration cards, applications, endorsement of special power attorney and general power attorney, vehicle registration, RTI applications, surety indemnity bonds, registration of marriage, Shagun Scheme, pesticides licence, SC/BC certificates, caste certificate and residence certificate.
When contacted, the officer-in-charge of the Suwidha Centre, Kumar Amit, IAS, said the completion of the process for obtaining the ISO certification had taken around four months as first, all the officials of the International Certifications Limited visited the Suwidha Centre for a physical verification of the functioning at the centre. They informed the centre about the scope of improvement as per their parameters for the issuance of the ISO certificate, he added.
Kumar Amit said later, they made improvements and informed the ISO Certifications Limited in this regard. Following this, the ISO Certifications issued the certificate to the Suwidha Centre, he added.
An employee of the Suwidha Centre said after the visit of the officials of the International Certifications, the administration had provided dustbins at every counter and also ensured that all its employees wore the centre's uniform. Besides, the Suwidha Centre authorities were also planning to install big ACs in the hall, the employee added.
Earlier, the district administration had applied to the QS Certification Services, Jaipur, seeking the ISO certificate. This certificate is issued, on the basis of customer focus/satisfaction, continual improvement, leadership and involvement of people etc.
Meanwhile, the Deputy Commissioner, Kamal Kishore Yadav, today formally presented the ISO Certificate to the employees of the Suwidha Centre here. Others who were present on the occasion included Kumar Amit, IAS, and in-charge of the Suwidha Centre's staff, Jaswinder Singh.