Five arrested for posing as sales tax officers
Amritsar, April 25
Following the leads provided by the bootleggers who were arrested by the Civil Lines police recently, the police has unearthed a nexus of criminals involved in the smuggling of alcohol and spirit used to manufacture illicit liquor in the city.
MC razes illegal roadside structures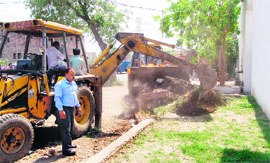 Amritsar, April 25
Complying with the Punjab and Haryana High Court orders, the Amritsar Municipal Corporation launched a drive to remove illegal encroachments on scheduled roads. The municipal town planning wing of the MC removed illegal projections erected by the residential and commercial establishments on the Batala road.
MC officials supervise an anti-encroachment drive in Amritsar on Wednesday. Photo: Vishal Kumar

4 vehicle lifters held
Amritsar, April 25
The police has arrested five persons allegedly involved in vehicle lifting and thefts while two others are absconding. Those arrested include Patras Masih, a resident of Bahadur Hussain Kalan, Gurdaspur, Bobby and Saleem of Faizpura, Harjit Singh of Wadala Johal village and Lakhwinder Singh of Pheruman village. The accused who are absconding include Narain alias Rajbir Singh of Thathgarh village, Tarn Taran (an accomplice of Patras Masih) and Bhallu of Faizpura (an accomplice of Bobby and Saleem).
CBSE schools to reserve seats for pre-nursery
Amritsar, April 25
The Central Board of Secondary Education affiliated schools seem to have grudgingly agreed to implement the RTE Act but only for the pre nursery classes. The schools will reserve 25 per cent seats under the Act from the next academic session.
Now, land records a click away
Amritsar, April 25
Coming as a relief for farmers, the Revenue Department has started uploading the land records on a website (www.plrs.org.in). The first phase of the project has been completed.
AIHSS lends voice to Pak Hindus, Sikhs
Amritsar, April 25
The All-India Hindu Shiv Sena (AIHSS) has demanded extension of the cut-off date of December 31, 2004 to grant Indian citizenship to Pakistan nationals belonging to Hindu and Sikh communities.
Harvest season on, docs advise precautions for asthma patients
Amritsar, April 25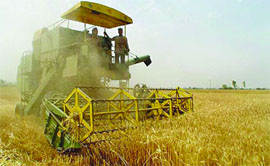 With the wheat crop harvest season in full swing and the percentage of grain dust particles increasing in the air, doctors have advised residents, especially those suffering from asthma, to take precautionary measures. Chest specialist Dr Naresh Chawla said, "When the harvest season is on, people must not forget to wrap a cloth around their face." He said problem is more severe in the rural areas.

Grain dust being released during harvesting of wheat. Tribune photo

NGO to file PIL against govt over lack of toilets
align="left">Amritsar, April 25
The Punjab Pollution Control Committee, an NGO, urged the state government to set up water treatment plants in the city.
Racing against drug menace
Amritsar, April 25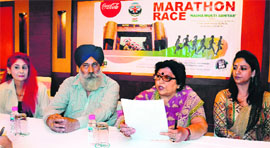 With a view to generate awareness against drug menace, the Rehabilitation and Settlement Organisation (RASO), an NGO, will organise a mini marathon on April 29. The marathon, which will begin from Attari-Wagah Joint Check Post, has been divided in two parts.
Members of the Rehabilitation and Settlement Organisation announce the date of the marathon to be held in Amritsar. photo: sameer sehgal

Cricket Tourney
DPS defeat Sri Guru Harkishan Public School
Amritsar, April 25
In the first round of the Inter-School T-10 Cricket Tournament, host Delhi Public School (DPS) defeated Sri Guru Harkishan Public School, Sultanwind Road by six wickets here today.







Business on a right path:

Trucks lined up on the ICP premises at Attari on Wednesday. The bilateral trade between India and Pakistan has increased manifold since the inauguration of the Integrated Check Post. photo: vishal kumar