Count unsafe buildings, orders MC
GS Paul
Tribune News Service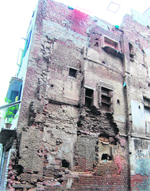 Potential disasters Two unsafe buildings in Amritsar. Photos: Vishal Kumar
Amritsar, April 17
After the Jalandhar factory collapse, the state government has ordered a statewide safety audit of commercial and industrial buildings. Scores of such unsafe century-old buildings both residential and commercial are crying for attention of the authorities. The authorities, however, claim that no-objection certificates were not granted to these buildings. In the past, a series of these buildings had collapsed due to rain. Many lives were also lost in these accidents.
On the directions of the district administration, the Municipal Town Planning (MTP) wing of the Municipal Corporation has ordered a fresh survey to identify such buildings. Any building whether commercial or residential, has to obtain a no-objection certificate from the MTP department, yet neither of these century-old buildings could qualify for this certificate. People are still living in these potential disasters or run businesses from here.
These buildings have been used for commercial purposes for the past six decades, and since their structures are in very dilapidated condition, NOCs cannot be issued against them as per the law, says Senior Town Planner Shakti Bhatia. "We issue NOCs against these rickety structures only for the purpose of obtaining a bank loan and not on the basis of structural safety. We receive 100 applications everyday to obtain NOCs against fresh construction, maximum of which will be of residential buildings. We know that these buildings are located in the Walled City and are unfit for residential purpose. Still people do not want to vacate them. Tenants live in these buildings for several decades and even operate businesses from here, and if we initiate any action, they get stay orders from the court," said Bhatia. "It is our liability to take care of them and in the past we had safely demolished at least 40 such structures and a notice has been circulated today to conduct a fresh survey, so that some planning could be done to rehabilitate those who are compelled to live in these buildings in the absence of an alternate arrangement," he said.
The district administration, in collaboration with the MC and the Improvement Trust had submitted a policy with the ministry of local bodies, under which occupants of these buildings were to be offered alternate living arrangement, yet after a lapse of over six months, a nod from the local bodies is still awaited.
The MC teams led by Senior Town Planner Shakti Bhatia had identified 113 century-old buildings which were on verge of collapse and had even demolished some in Dholi Mohalla on the Sultanwind road, Maini Chowk in Lakshmansar, Tabela Jagatram in Namak Mandi areas. "Most of these buildings were not occupied and thus it was easy to demolish them. It was necessary because these buildings posed danger to the adjoining buildings as well," Bhatia said.
Areas like Dharam Singh market, Katra Ahluwalia Bazaar, Namak Mandi, Gali Chhajju and Guru Bazaar Pratap Bazaar, Cheel Mandi, Ghantagarh, Haveli Zamadara and around Golden Temple have hundreds of such old buildings.