Mohakampura school cries for decent building
Neeraj Bagga
Tribune News Service
Amritsar, April 13
Over 250 students of Government Elementary School, Mohakampura, are forced to study in deplorable conditions as its need for new school building is caught in a bureaucratic rigmarole.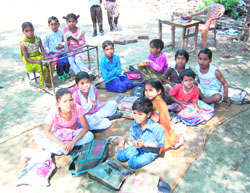 Students sit on dirty mats in the absence of proper seating infrastructure; and (below) mid-day meal being cooked in unhygenic conditions at Government Elementary School, Mohkampura, in Amritsar. Photos: Sameer Sehgal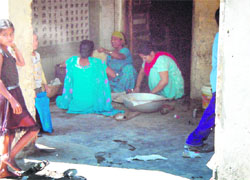 Located in the city's slum locality Mohkampura, the school is functioning on the land of a gurdwara, which shares its wall with the school. Majority of its students come from economically weak families. The paucity of resources at home and wretched condition at the school are enough for students to have little interest in studies.
Yet promising students like Mandeep Kaur, whose father works as a labourer, earned laurels for the school as she won cash reward of Rs 2,000 in mathematics last year.
However, these students have to sit on mats made from jute bags, while its seven teachers have to manage with limited chairs as there is not adequate furniture in the school.
The school has two rooms, a verandah and a dusty foreground. A dingy room and a verandah serve the purpose of classrooms. Another room doubles up as a kitchen and a store. Prevailing unhygienic condition escalates the risk of food being infected. An uncovered toilet seat is out of use. Students are forced to urinate in open, while teachers have to seek help of neighbouring houses.
Sources said the Revenue Department allotted 500-sq yard plot each for raising school buildings to four elementary schools Tungpai, Sawan Nagar, Dharma Nagar and Mohkampura in 2004.
Except the Mohkampura school, the rest of the three schools managed to construct their buildings. The land belonged to the Irrigation Department.
Meanwhile, with the passage of time sewerage was laid on the land and as per the norms no building could be constructed on it. Now a road was laid on that plot.
Efforts to shift the allotted land to somewhere else could not be materialised as departments involved failed to reproduce the first allotment letter.