Man opens fire, kills two daughters-in-law
Shoots self too before injuring others
Our Correspondent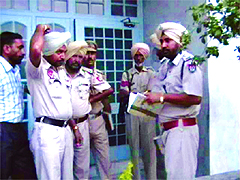 Police team at the site of the crime to probe the incident. Tribune photos
Ferozepur, May 3
In a tragic incident, two women were killed on the spot while a third was grievously injured when their father-in-law, identified as Harbans Singh, allegedly opened fire at them with his .315 bore licensed gun.
Later, the old man also shot himself dead. The reason behind the dastardly act could not be ascertained.
According to the information available, the women belonging to a family in Dhani Budha Shah, on the outskirts of village Chak Soumaya in Guruharsahai sub-division, were preparing "langar" when Harbans Singh, 60, arrived with his .315 bore rifle.
Without any provocation, Harbans opened fire at the womenfolk in which his own daughter-in-law Navdeep Kaur, wife of Amrik Singh and Ramandeep Kaur, the daughter-in-law of his brother, died on the spot while Lakhvir Kaur, who was critically injured, was referred to a private hospital in Ludhiana.
Senior Superintendent of Police Hardial Singh Mann said the police was looking into the various theories behind the gruesome incident.