Rupee slide spells turmoil; some see a positive too
Ludhiana, May 17
The rupee slumped to a record low to Rs 54.51 against the dollar on Wednesday. In fact, it has been the worst performing emerging market currency in Asia since March 1. The Indian currency is facing further losses as the country struggles with a slew of additional economic challenges, including sliding growth.
Cross-LoC Trade
Parity restored between Chakan-da-Bagh, Salamabad
Poonch, May 17
Union Home Secretary RK Singh today assured the cross-LoC traders of Jammu region that 21 items would be restored to the export list. Besides, Chakan-da-Bagh trade route is being brought on par with Salamabad, increasing the number of trucks to 50 per day on trading days.
Pak set to reopen NATO routes
Zardari to attend the alliance's Chicago summit next week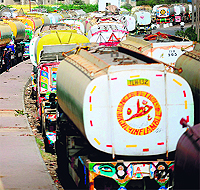 Pakistan President Asif Ali Zardari will attend NATO's upcoming Chicago summit as Islamabad looks all set to open the six-month blockade of the military alliance's supply routes to Afghanistan.


Fuel tankers used to transport fuel to NATO forces in Afghanistan, parked near oil terminals in Karachi. — AFP