star track

Song of freedom...
Composer Shamir Tandon generates awareness against piracy through his new song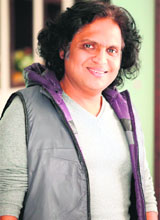 hard-hitting:

Shamir Tandon
Shamir Tandon has come up with the first ever anti-piracy song. The multi-singer song, a one-of-a-kind initiative, is conceived and composed by noted composer Shamir Tandon, who has given music to famous soundtracks like national award winning Page 3, Corporate amongst others and who has over 150 advertising jingles to his credit.
You went from being the nerdy number crunching corporate to belting out tunes as a music composer. How has it been so far?
I have no regrets on my career move. There is one life we live. I am very happy that I have experienced both sides of the world - that of being a managing director and then a music director. I am grateful to the Almighty that I got to live both lives - that of a corporate and that of an artiste. The journey has been fun.
Do you think your experience as the head of operations, India Virgin-EMI Records, gives you an upper hand in the music industry as you understand the working and business much better?
I don't think it's about an upper hand. But surely it helps understanding the business more holistically. It gives a wider view of life in general and a broader perspective of a music biz.
What made you make Salaami Ho Jaye, considering piracy has been a problem in the music industry and cinema industry for a while now?
Having seen the entertainment industry from a managerial point of view and also as an artiste I thought it was the biggest menace to us and our existence. Hence I thought we should educate the youth of today. We should create awareness about piracy so that people realise importance of artistes and art.
Where do you think the Hindi film music stands in the international music circuit?
We are big. The whole world is looking at India. That's what prompted my collaborations with Enrique Iglesias amongst others.
You and Madhur Bhandarkar seem to share a great working equation. Any plans of working on another movie again?
Yes. We are now more of friends and not just colleagues. We have done four films together Page 3, Corporate, Traffic Signal and Jail. We are just a phone call away from each other. And certainly work is on the cards together.
Who is the next international artiste you are keen on working with or are planning to work with?
Boy Blue was the first and more recent was Enrique. I am working with someone and will share soon when it materialises.
You are one of the few people from the industry who will not just work in your line of expertise, but are also work for the betterment of the music industry. Comment.
It will be good if we are able to contribute in any manner to the betterment of musical society.
Tell us about your future projects.
Projects will release in the latter part of this year. You will know them then. Work will speak for itself.
Playing the Casanova...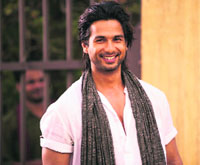 Shining bright: Shahid Kapoor
Shahid Kapoor's favourite character Javed used shayari as pick-up lines.
Shahid Kapoor says it is the character of Javed in Kunal Kohli's Teri Meri Kahaani which he found the most interesting to portray. 
"I have never played a character like Javed earlier. He is a little bit of Casanova. Whenever he sees a girl he starts flirting with her. It's his inherent nature. He is very scruffy and has an uncombed look.  He keeps on doing shayari the whole day to impress girls. Shayaris are his pick-up lines and very often he does succeed in getting the girls with his shayari. He is not a sophisticated shayar and that is part of his charm."
The most difficult part says Shahid was wearing the stud in his ear. "I don't have my ears pierced in real life, so I wore a stud which was a clip on and it was so painful. I have started respecting women now. I thought it would be easy but after shoot every evening I would die to take it off as I used to have red ears," he laughs.
He further adds, "Javed is a good-for- nothing guy who flirts with the every girl he meets. He later meets Aradhna, the character Priyanka Chopra is playing and discovers love for the first time. It's a different and a new feeling for him and he doesn't know what to do. He is confused. That is Javed in 1910. It was probably the funniest and naughtiest character of 1910 I have ever seen. I am very excited about this character and have received a lot of feedback. I had to memorise the shayaris also."
Emraan wants a bigger Dhan Te Nan

Emraan Hashmi has always been known for his hit numbers and keeping this image in mind many directors go to the trouble of churning out good numbers for all his films. Recently T. Series Scion Bhushan Kumar also insisted on a romantic song to be added to the soundtrack of Dibakar Baneerjee's Shanghai. Apparently, for Ek Thi Daayan, Emraan has now requested producer as well as the music director Vishal Bhardwaj to create a song for him that is bigger than Dhan Te Nan. Quiz Emraan about it and he says, "Yes, I want it bigger and hotter as I want to give Ek Thi Daayan the best chartbuster track of the year. I love the music Vishal gives as I find it very melodious and novel and I loved Dhan Te Nan song from Kaminey. In fact, I don't know anyone who didn't like the song! Vishal Bhardwaj has already been known for his chartbusters like Beedi Jalai Le, Dhan Te Nan and Ibne Batoota and incidentally is the music composer for this film. So, when Emraan and he came together for a film the expectations naturally ran high.
Shahid's Wanted by Prabhu Deva!
Shahid Kapoor delivered such an outstanding and inspiring performance at a recent press conference held to announce an upcoming award function that he immediately bagged a role in the much awaited movie Wanted 2!
Prabhu Deva, the superstar dancer and director, who was present at the function, was highly impressed with the actor's dance moves.
In fact, it was Shahid's talent and personality that made Prabhu Deva sign Shahid up for his upcoming film Wanted 2!
Seems like the stars are shining on Shahid once again! Let's see what he makes out of this wonderful opportunity!
Loss and gain
There was a strong buzz that Nana Patekar was approached to play the main villain opposite Aazaan-fame star Sachiin Joshi in Mumbai Mirror.
But sources reveal that Prakash Raj has been signed on for the pivotal role. The powerhouse performer, who happens to be the flavour of the year with Singham, is also very excited about his role in the film. And why not? After all the Jaykant Shikre of Singham will now get to play Shetty, the most dreaded character in Mumbai Mirror.

Pairing up for IIFA
Chitrangda Singh has been paired up with Vicky Donor actor and former TV anchor Ayushmann Khurrana to host the IIFA Fashion Night. He is excited about it. This will be their first pairing together. Who knows if this might land them a movie together!

Co-Host: Chitrangda Singh
Will Smith's 'large' concern
Will Smith feels that the 3D effect would make his already large features look larger on screen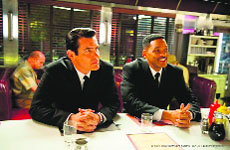 Comic agents: Will Smith(right) and Josh Brolin in Men in Black
The fans of Men in Black franchise often associate the film with one name—a rookie, rebel yet funny character played by Will Smith, that of Agent J. Now, that the third movie in the trilogy is back to entertain the audience, this character of J is sure to create buzz amongst the Indian fans of the actor.
Talking about the movie of Sony Picture's which will be releasing in 3D all over India on May 25, Smith says, "I have to figure out how to articulate it but Men in Black is in 3D. It is supposed to be the movie that lives in that kind of world. It adds emotionally, it adds comically, it transports you in a way that some movies take you out of. It's absolutely perfect. And it's about Time travel, aliens, monsters and most importantly about the relationship between Agent J and K! With this film the relation between the two agents grows much stronger." The third movie in the franchise returns after a gap of 10 long years and according to Smith it was the concept and the characters that needed this maturity period. "What we had to do was elevate the story, and the only way to do that is to go deeper, deeper into the characters, deeper into the revelations that the movie would reveal," he adds. The powerful, iconic imagery created by the suit has been instilled in the minds of the audience as much as it has become a part of the actor's life! "The seven-year-old boy in me comes running out when I put the black suit on."
The film which releases on Friday will be Smith's very first 3D movie. Smith expressed his concern over the fact that the 3D effect would make his already large features look larger on screen! Large or not, Smith is sure to be the only focal point of the movie as he takes a time jump to save the life of his only friend and partner Agent K and save the planet earth from the wrath of criminal alien Borris.
Josh Brolin who plays the character of young agent K was apprehensive initially about his acting out Tommy Lee Jones as K. But how does Smith rate him for it? Smith says, "There's a certain rapport or repartee that you'll develop with an actor and that becomes your timing, how you create. Josh had studied Tommy so well that there wasn't a single missed beat when Josh came in. It was almost the identical chemistry, which is very difficult to come by."
Critics have already predicted the movie to be yet another Blockbuster hit. But according to Smith the concept of Men in Black will stand out in the history of world cinema.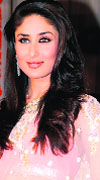 Smoking Jane
Kareena Kapoor has been puffing away on the sets of Heroine. Don't worry! She is just getting into the character for the movie. She also had to do cocaine and shout and cry her lungs and heart out for the film.
For a cause: Kareena Kapoor
Ethnic camouflage
Aishwarya Rai Bachchan has not lost her baby weight because she is planning another baby. So she will wear Indian outfits such as anarkalis at the Cannes Film Festival. She has gone there with her mother, nanny, baby, stylists, and PR agent.
Pooja comes to Ash's rescue
After Sonali Bendra, Lara Dutta and Sameera Reddy, it's Pooja Bhatt to support Aishwarya Rai's post pregnancy weight gain. The ex-Miss World has been receiving a lot flak from fashion pundits and fans for putting on extra kilos as she is making an appearance at the ongoing 56th Cannes for the 11th time. However, Bhatt supported Rai and said the debate about her weight is inane. "I find this debate about Aishwarya Rai's weight inane. She is a gorgeous woman period. All the ugly people being malicious should take a hike!" she said.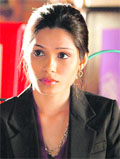 Proud moments
Freida Pinto says she will always remember her origins. She is extremely proud to be at the Cannes Film Festival and having worked with many prominent directors and actors. She is promoting her film there.
Tangy summer
Kareena Kapoor is a big lemon lover. She loves having lemonade all day long, especially in the summer. She loves wearing the colour lime along with corals and orange and white. She makes it a point to do yoga and sleep enough and have plenty of water.