mumbai attacks
Key 26/11 accused yet to face courts in Pakistan, says India
Pakistan and India began their first round of two-day interior secretaries-level talks that focused mainly on liberalising visa regime and anti-terrorism cooperation. Pakistan's Interior Secretary, Khwaja Siddique Akbar, and his Indian counterpart, Home Secretary RK Singh, led their respective delegations.
Army Chief's show cause notice to Lt Gen
Defence Ministry says it was kept in the dark
New Delhi, May 24
A day after the Army Chief General VK Singh issued a show cause notice to Lieutenant General Dalbir Singh Suhag, it has now turned out that the Ministry of Defence was in the dark about the developments and was taken aback as the Army headquarters had, a few weeks ago, sent Gen Suhag's name for a promotion.
In Panipat orphanage, children at owner's mercy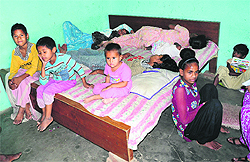 Panipat, May 24
Three unswept, unkempt rooms 20 children call their home and a childhood suffocating in the blank walls that surround them.

Children at Bal Anathalya at Saundhapur village in Panipat. Tribune photo: Parvesh Chauhan

Crude shock: Petrol goes dearer by Rs 7.50 a litre
May 24, 2012
Day of the Yadavs as UPA-II turns 3
May 23, 2012
Govt paper whitewashes black money claims
May 22, 2012
UPA seeks 'magic formula' to boost image
May 21, 2012
Centre set to allow export of wheat
May 20, 2012
Land acquisition: Ramesh rejects panel's suggestions
May 19, 2012
TAPI gas project gets Cabinet nod
May 18, 2012
Greek turmoil sinks Indian rupee
May 17, 2012
CAG slams Dept of Space, Nair on Antrix-Devas deal
May 16, 2012