PUNJAB

HARYANA

JAMMU & KASHMIR

HIMACHAL

REGIONAL BRIEFS

NATION

OPINIONS

LETTERS

BUSINESS

SPORTS

WORLD


Bad health status rings alarm bells
Palampur, June 12
Recent spurt in the cases of renal failure, gastric ulcer, liver cancer and tuberculosis in this region of the state has become a matter of serious concern. The situation is quite alarming but the Health Department is yet to wake up from its deep slumber. In fact, renal failure and gastric ulcer have become a common disease here as every seventh person is a victim. The number of deaths due to these two diseases has also gone up.
Overloaded vehicles ruining roads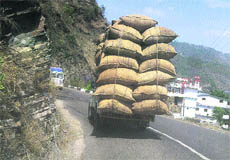 Solan, June 12
With little check on overloaded vehicles by either the police or the officials of the Regional Transport Authority, these vehicles appear to be having a free run in the district.

An overloaded vehicle plies on the Kalka-Shimla road. Photo by writer

Kangra boy brings home laurels
Nurpur, June 12
It is a matter of pride for Himachal Pradesh that has contributed 35 commissioned officers in the passing out parade held in the Indian Military Academy (IMA), Dehradun, recently.
Pakistani traders seek visa relaxations
June 6, 2012
Drinking water schemes run dry
May 30, 2012
Blues at Green Tax Barrier in Manali
May 23, 2012
Chamera III project nears completion
May 16, 2012
Kangra tea industry in a shambles
May 9, 2012
Bad weather hits tourist arrivals
May 2, 2012
LPG shortage hits Kangra district
April 25, 2012
Poaching, illegal mining spell doom for trout in Tirthan
April 18, 2012
Vehicle owners face hardships
April 11, 2012
Rural health centres in Palampur need care
April 4, 2012
Illegal mining up as govt depts pass the buck
March 28, 2012
Poor roads major hurdle for tourism industry
March 21, 2012