PUNJAB

HARYANA

JAMMU & KASHMIR

HIMACHAL

REGIONAL BRIEFS

NATION

OPINIONS

LETTERS

BUSINESS

SPORTS

WORLD


Move to curb female foeticide in Jhajjar
ANM, anganwari workers to get cellphones
Jhajjar, July 12
Having installed the 'active tracker' system in the health centres to check sex-determination tests, administrative authorities of the district, which is notorious for the skewed gender ratio with 774 females against 1,000 males in the 0-6 age group according to the latest Census, have now come up with another plan to improve sex ratio here.
Fissures in state cotton millers' association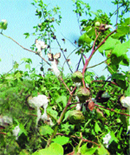 Sirsa, July 12
Fissures have developed in the Haryana Cotton Industries Association — an organsation of cotton millers in the state, as its president Sushil Mittal, who fought a successful battle with the government for reduction in market fees on cotton last year, has resigned from his post due to tax evasion by some of the members.
Traffic constables get tips on English speaking
Gurgaon, July 12
CyberCity Welfare Society, in partnership with the Gurgaon Police authorities, organised a 10-week training programme for traffic constables here recently. The training sessions comprised theory, real-life scenarios and role-plays.
Haryana Tourism to step into luxury resort segment
July 10, 2012
Jhajjar admn wakes up from slumber
July 6, 2012
Police identifies 65 crime-prone villages in Rohtak Range
July 3, 2012
State Crime Record Bureau to launch website today
June 29, 2012
State to honour anganwari workers of Jhajjar
June 26, 2012
50% adolescent girls found anaemic in Haryana
June 22, 2012
State all set to raise foodgrain storage capacity
June 19, 2012
HUDA residents to get potable water soon
June 15, 2012
252 bail jumpers, POs nabbed in 5 months
June 12, 2012
Power, water crises trigger protests
June 8, 2012
Mobile traffic courts in Gurgaon
June 5, 2012