Surprise checks conducted at schools as DGSE comes calling
Bathinda, July 16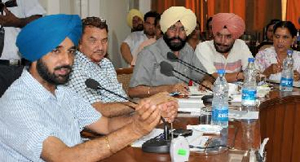 The Director General of School Education (DGSE), Kahan Singh Pannu, convened a meeting with the heads of all government schools here today. Earlier in the morning, around eight teams conducted surprise checking at as many as 95 per cent government schools in the district. Each team was headed by district science supervisors of eight districts.

Director General of School Education, Kahan Singh Pannu (first from left) addresses the heads of government schools at a meeting convened in Bathinda on Monday. a tribune photograph

Battle of the bulge
Big market for full figures: XL, XXL sizes first ones to fly off the shelves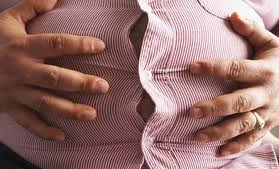 Bathinda, July 16
Size does really matter, it seems. Especially in a state like Punjab, where people prefer to be known for their "khati-peeti" families, increasing girth size, or what we popularly call the waist size, is not a waste. You may be stared at, approvingly or with a "tsk tsk…kudi tu kuchh khandi ni?", if you are skinny or have just the right body mass index, but no one will throw a second glance at you if you are full. That's final.
Lifestyle diseases on the rise
Bathinda, July 16
Expressing concern over the unnecessary use of pesticides in agricultural production in the Malwa belt, the executive director of the Kheti Virasat Mission (KVM), Umendra Dutt, today said the pesticides had a direct relation with cancer due to which the number of patients suffering from the disease was more in this belt. He also revealed that there were traces of six to 13 types of pesticides in the blood of the people of the Malwa belt. Besides, the incidence of cancer was more among women as compared to men, he added.
NSS team attends adventure camp, returns from Patnitop
Bathinda, July 16
All the 10 NSS volunteers from the district (five boys from Government Senior Secondary School, Multania, and five girls from Mata Sundri Girls Senior Secondary School, Dhade), who had gone to attend a summer adventure camp from July 4-13 at the Jawahar Institute of Mountaineering, Patnitop.
Woman loses gold chain after getting lift in car
Bathinda, July 16
Seeking lift cost dear to a resident of Bhatti Road who was robbed off her gold chain. Nisha Sachdeva, a resident of Bhatti Road, was returning after attending a satsang on Goniana Road. The driver of a car offered her lift. Apart from the car driver, there were four women sitting in the car. After covering a small distance, the car's occupants snatched Nisha's gold chain and dropped her on the road. Police have registered a case.
School students showcase talent, depict aspects of science
Bathinda, July 16
An exhibition of science, mathematics, art and craft was held at the Government High School, Nehianwali. Students from classes VI to X participated in this exhibition with their models on energy, pollution and those depicting the other aspects of science. Similarly, students also presented models of mathematics on topics of triangles, congruent triangles and rational numbers.
St. Xavier's kids make best out of waste
Bathinda, July 16
The students of the kindergarten wing of St. Xavier's School organized an exhibition on the theme, "Best out of waste."
Jassi flays hike in power tariff
Bathinda, July 16
A former Congress MLA from Bathinda and general secretary of Punjab Congress, Harminder Singh Jassi, today strongly criticised the SAD-BJP government for making 12.8 per cent hike in the power tariff. He said the hike would ruin the trade and industry in the state.
Man sustains 90% burns in accidental fire at grain market
Bathinda, July 16
In a bizarre accident, Kaka Singh, a resident Balraj Nagar, accidentally caught fire near the grain market in the city today. As per the information, Kaka Singh was transferring fuel from one tractor to another when the accident took place.
Dental fortnight being observed
Bathinda, July 16
Under the leadership of Civil Surgeon Dr Ajay Sahni, the observance of dental fortnight began today at the Civil Hospital here. Besides the civil hospital, the dental fortnight is also being observed at the community health centre (CHC), Goniana, till July 30.