Nothing serious about it
The cast of Punjabi movie Carry on Jatta is all-agog about the comic treat that is on its way…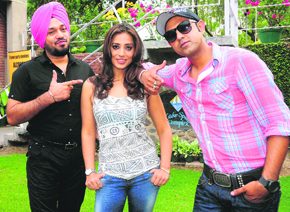 The shutterbugs clicked and there was excitement all around - "Mahie, smile please". "Gippy give us a funky shot." "Ghuggi unleash your laugh" – when the cast of Punjabi movie Carry on Jatta came to Chandigarh on Sunday. While Mahie was happy about her homecoming, Gippy sported a cap with the title of the movie and Gurpreet stood out in a pink turban. Simply Punjabi: As the cast declared the house open for questions, we immediately caught up with Mahie.
Punjabi Flavour: (L-R) Gurpreet Ghuggi, Mahie Gill and Gippy Grewal. Photos: S. Chandan

Small steps in B-town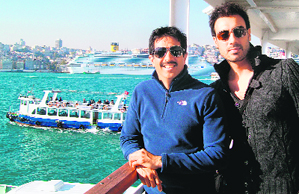 Gavie Chahal enjoyed the experience of working with Salman Khan in Ek Tha Tiger
By now just about everyone is familiar with the mantra of survival in Bollywood. It takes a single 'name' to surpass all barriers and be there — Salman Khan. If you know him, it is like you have hit the jackpot and if bhai sees you nothing can stop you from being noticed on the silver screen!
Punjabi actor Gavie Chahal(R) along with director Kabir Khan on the sets of Ek Tha Tiger.

Astro turf
ARIES: The need is to be vigilant as someone at office might try to harm your interest or reputation. Call friends you haven't seen for a long time. Drive carefully. Tarot message: You have well-wishers around who will give you sound advice.
The year ahead
If your birthday is July 24...
Venus has decided to put some harmony into your working environment. Why not promote cordial relationships with colleagues or employees? How about organising a get-together this year? An office romance may also happen. A new diet, fitness program, beauty treatments, a new hair style or cosmetic surgery are favoured. Income will come from unexpected sources. Career can be quite challenging. Relationships may suffer due to lack of communication. Throat problems are likely. You'll be able to reap the benefits of a task, which you managed to fulfill. You'll be pleased with the results. Avoid being too arrogant as this could lead to misunderstandings and problems.
Chatter box
The scare dare test
Big CBS Prime brings a new horror show '13: Fear Is Real', that will scare the viewers. This is the first ever reality horror show for the Indian audiences. Imagine the Blair Witch Project as a reality series? This is pretty much on the similar lines. 13: Fear Is Real is a spine-tingling series combining the horror genre with a reality show format. Contestants are taken on a journey with challenges and games are designed to frighten them on the way.

A still from 13: Fear Is Real

Zooming on Waheeda Rehman
Waheeda Rehman signed the Guide when her counterparts in the industry were doing love stories or family dramas. The yesteryear actress says she took up the 1965 film as a challenge because it highlighted the grey shades in her onscreen character. The 76-year-old legendary actress, whose portrayal of Rosie was appreciated by the audience, said it was tough to play a rebellious character at that time when the film industry was not open to such roles.
Go-getter
In the big league
Reaching out for the stars is everyone's dream. But while several people just dream, a few work hard towards it and steal the stars. Saanya Ohja, all of 18, belongs to the second category. Her pretty face shines as she does the salsa steps, but does not drop a hint that she is one of the 15 international students in the most exclusive class of 45 students which are a part of the Huntsman Program, an accelerated dual degree programme at the Wharton Business School, University of Pennsylvania.

Leading from the front
Bhairvi Raichura, the producer of social thriller show Chhal Sheh Aur Maat on Colors is riding high on success these days. Her first show jointly produced by 24 Frames has got good response from the viewers. She is enjoying her stint as a producer because she has got recognition in the television industry where big producers are dominating the television industry. Bhairvi talks about her journey on television. Role change: Bhairavi Raichura

HEART talk
Respect family values
I am a 16-year-old boy and I stay in a joint family. My father does nothing without asking his elder brother, and he has completely refused my request to let me take up deejaying. For everything I have to do, he first asks his brother. Don't you think I should be allowed to make my own decisions? You are too young to make your own decisions, and you shouldn't be interfering in the functioning of the family. Yes, you have the right to express your likes and dislikes, but that does not mean you can function independently. Joint families work with some pattern, so try talking it out to the head of the family. I am sure something will work out.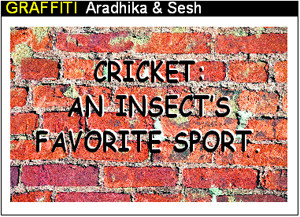 Vanity box
For your eyes only
Tips on applying mascara: They say that the eyes are the windows to a person's soul. The eyes can really speak for themselves and can often stand on their own. This is why it's not surprising to know that make-up also focuses much on the eyes. There are so many things available nowadays to enhance the eyes — eye shadows or even eye accessories like eye extensions. And of course, there's also the ever popular mascara. Mascara enhances the eyes by elongating the lashes and therefore accentuates the beauty of the eyes.
Stress buster
Take it easy
Stress, in addition to being itself, and the result of itself, is also the cause of itself. This is what the famous psychologist Hans Selye has said and I do agree with him completely. Most people keep stressing all the time as a form of "really caring'' about achieving a goal. But this is not about caring, it's about stressing.
Relaxed magic: Caring is relaxing, focusing and calling on all of your resources, all of that relaxing magic to action when you pay full attention with peace of mind.
The eatery
Monsoon platter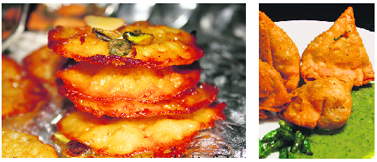 If there is a season for sweet temptations and extra calories, this is it. Although the mercury has not dipped as much, the weather is still a good excuse to stuff oneself with rich and sugar-coated sweetmeats along with some fried delicacies. We get you five places to savour some tried 'n' tested monsoon fares.
Bitter-sweet Kalki
Known for her offbeat roles in Dev D and Shaitan, Kalki Koechlin will soon be seen playing fun loving avatars in movies such as Ek Thi Daayan and Yeh Jawaani Hai Deewani. The 29-year-old actress, who began her career playing an MMS scandal victim who turns into a prostitute in 2009 release Dev D, was last seen portraying a student activist in Shanghai. "I am playing this bohemian happy-go-lucky girl in Ek Thi Daayan. She is a very sweet non-daayan like character. I do get into an unpredictable zone but the inherent sweetness doesn't go," Kalki said. The film, directed by Vishal Bhardwaj, also stars Konkona Sen Sharma and Huma Qureshi. "I am not necessarily a daayan but then I could be the one! It is this very unpredictability about the film that I love most. It is a contemporary film set in today's Mumbai," Kalki added.
Who's next?
Director Rohit Shetty has quashed rumours of Kareena Kapoor being cast opposite Shahrukh Khan in his next project Chennai Express and says that the leading lady will be finalised soon. "I have not really (approached Kareena Kapoor), she knows what I am making. I might do something else with Kareena," Shetty said in an interview. Grapevine is abuzz that Deepika Padukone is likely to feature opposite King Khan in the film. "Just wait for ten days and then everyone will come to know who it is. In ten days time, we will announce our heroine," he said.
The day after
Boyzone star Ronan Keating says he feels like a failure after an affair with a dancer ended his 14-year marriage to Yvonne Connolly. The 35-year-old said he has finally realised he does not want to be a free spirit and has been going through hell since he split with Connolly in April, reported a publication.
I am a good match-maker: Eva Longoria
Desperate Housewives star Eva Longoria thinks she is a good matchmaker when it comes to romantic relationships. The 37-year-old actress, who recently split from boyfriend Eduardo Cruz, said she is good at not only romantic pairing but also business, reported a publication.
Leonardo DiCaprio wants to get back with Bar Refaeli?
Hollywood superstar Leonardo DiCaprio reportedly wants to get back with ex-girlfriend Bar Refaeli. According to sources, DiCaprio, who is currently dating model Erin Heatherton, is desperate to rekindle his romance with the Israeli supermodel, a publication reported.
Sarah hates to date
Former Girls Aloud singer Sarah Harding says meeting new people makes her uncomfortable and she prefers to meet potential boyfriends through mutual friends. The 30-year-old, who split from fiance Tom Crane last September, has since been rumoured to have reconciled with the DJ, reported a website.
In the 'Grey' zone
Harry Potter star Emma Watson is reportedly in talks to take on the role of Anastasia Steel in the movie adaptation of Fifty Shades Of Grey. The 22-year-old is said to be the first choice of producers Mike De Luca and Dana Brunetti, who have been put in charge of the movie version of E L James' erotic series, reported a website.