Farmers block highway against land acquisition
Manmeet Singh Gill/TNS
Amritsar, July 24
In protest against the acquisition of agricultural land of Kaler Ghuman village, activists of 17 farmer unions blocked the Jalandhar-Amritsar highway near Umranagal village, 2 km from Beas.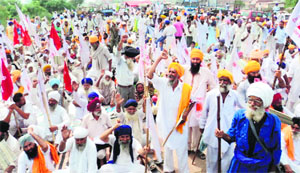 Farmers hold a protest on the GT Road near Umranangal village. A Tribune photo
In the evening, the protesters lifted the blockade after Amritsar SSP (Rural) Preet Paul Singh Virk assured them that the matter would be resolved by Thursday. The protesting farmers shifted their protest to Baba Bakala tehsil complex and said they would again block the GT Road if their demands were not accepted by Thursday.
Farmers were protesting against the notification of the Rayya panchayat to acquire 14 kanal and 11 marla agricultural land. Nine families of marginal farmers, who grow vegetables, own the patch of land.
The aggrieved families along with members of various associations had been sitting on the agricultural plot for the past 25 days. It was only yesterday that members of the unions decided to shift their protest to tehsil complex.
To further intensify their agitations, over a thousand farmers today decided to move towards Beas to block a bridge over the river.
However, they were stopped by the police near Umranagal village. Traffic on the road had to be diverted towards Baba Bakala. The vehicles covered an extra 5 km to reach Beas. Initially, the unions decided to block the traffic only for two hours, but then converted it into an indefinite protest.
Satnam Singh Pannu of the Kisan Sangarsh Committee said, "The land is the only source of livelihood for 70 members of nine families. It is hard to manage from such a small piece of land but they are doing it. Now, the government wants to deprive them of their only source of meager income." He said Nagar Panchayat, Rayya, also owns a piece of land near the place.
When contacted, Baba Bakala SDM TK Goel said, "The land is required for the construction of a sewage treatment plant. It was acquired through a notification issued on June 27. Later, when we tried to take possession of the land, farmers opposed it."
He said the administration had already recommended to the government that the piece of land owned by Nagar Panchayat could be used for the sewage treatment plant.
point of dispute
* On June 27, the state government issue a notification to acquire land belonging to nine families of Kaler Ghuman village to construct a sewage treatment plant
* As many as 17 unions of farmers come in support of the aggrieved families
* Farmers go on protest, lift blockade after Amritsar SSP (Rural) Preet Paul Singh Virk assures them that the matter will be resolved by Thursday