PUNJAB

HARYANA

JAMMU & KASHMIR

HIMACHAL

REGIONAL BRIEFS

NATION

OPINIONS

LETTERS

BUSINESS

SPORTS

WORLD


FALLOUT OF GOPAL KANDA EPISODE
Hooda can restore regional imbalances in ministry
Hisar, August 9
The ouster of Gopal Kanda from the Bhupinder Singh Hooda Cabinet has provided an opportunity to the Chief Minister to restore regional imbalances in his ministry. The Cabinet now has two vacancies as Om Parkash Jain had resigned last year following registration of a case against him.
Kanda's ouster changes political equations in Sirsa
Sirsa, August 9
Gopal Kanda's involvement in the case of abetment to suicide by his former staffer, Geetika Sharma, and his subsequent resignation from the state Cabinet is likely to change political equations in his hometown Sirsa.


Pinning hope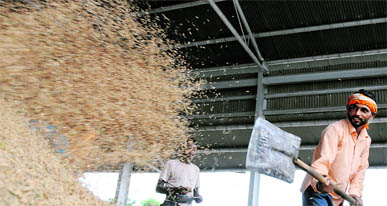 A labourer cleans paddy as arrival of premature paddy (sathi dhan) starts in the Karnal grain market. Tribune photo: Ravi Kumar
Congress hopes to derive political mileage peter out
August 4, 2012
Investors duped in Fatehabad in name of township
August 3, 2012
Voices against acquisition of land get louder
July 31, 2012
State to have vocational courses at school level
July 27, 2012
Farmers up in arms against acquisition of land in Jhajjar
July 24, 2012
Starved of power, opposition to project still strong
July 20, 2012
Attendance in Jhajjar schools through biometric system
July 17, 2012
ANM, anganwari workers to get cellphones
July 13, 2012
Haryana Tourism to step into luxury resort segment
July 10, 2012