Model United Nations Conference ends
Tribune News Service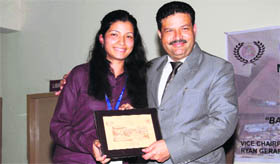 Chairman of Law College, Dehradun, Jitendra Joshi presents a memento to a participant of the Model United Nations Conference in Dehradun on Sunday. A Tribune photograph
Dehradun, August 19
The two-day Model United Nations Conference organised by Law College, Dehradun, concluded here today.
The conference took a new turn on the second day. The reason was the declaration of emergency session on the first night by the United Nations General Assembly. The emergency was declared by the Model United Nations General Assembly to make it look like real United Nations General Assembly.
What was the crisis? On the first night of the conference when the delegates were on bed, the General Assembly at 11:00 pm called up the emergency session. All delegates were present in the hall within 30 minutes. Anantdeep of Delhi University, who was chairing the General Assembly, informed the delegates that Algeria had attacked the NATO forces who were heading towards Libya. About 120 NATO soldiers perished and many got injured.
Algeria and its allies declared immediate halt of the fuel supply to NATO nations. Then began the phase of arguments. Determining the stand of Algeria, the Algerian delegate strongly asserted that the encroachment of the Algerian territory by the NATO forces was a clear violation of the territorial sovereignty of Algeria.
Opposing the same, the delegates of the NATO nations put forward their stand. The session continued up to 2 A.M. Ultimetly, a resolution declaring the Algerian attack upon the NATO forces as inhuman and against the International Law was passed.
Even in two days session, the effect of midnight emergency was clearly visible. The delegates were enthusiastic. The audience witnessed a meaningful discussion.
Principal of the college Dr Rajesh Bahuguna maintained that the conference followed the entire international norms as well as regulations in the same way as it was observed in the United Nations. In the context of quality of discussion, the conference was a unique experience. He asserted that the resolutions passed and the issues discussed in the General Assembly and Economic & Social Council would prove to be a guideline for the international community. If the same is translated into practice, the conference would prove to be a milestone.
Chairman of the college Jitendra Joshi give a cash prize of Rs 48,000 along with certificate and memento to the winning candidates.
Winners of United General Assembly:
Best Delegate – Sushoban Sen of IIT, Roorkee; High Commendation – Shubhangini Jain of UPES, Dehradun, Winners of Economic & Social Council:
Best Delegate – Dhawal Tandon of Govt. Law College, Mumbai; High Commendation – Surender Kumar of Ram Manohar Lohia National Law Univesity.
Besides the chairman of Law College, Jitendra Joshi, Anuradha Joshi, Ankita Joshi, Dr. Poonam Rawat, Kumar Ashutosh, Dr. Rachna Chaudhary, Dr. Anil Dixit, Dr. Anil Bhatt, Anjum Parvez, Dr. Romil Bhatkoti, Dr. Tripti Thapliyal, Dr. David M. Domingo, Pramod Tiwari, Dr. Prabha Lama, Vijay Srivastava, Vineesh Kumar, Vijoy, Yogendra Singh, Shalini Bahuguna, Avinash Kumar, Nisha Alag, Anand Kumar etc. were present.