Violation of norms
Telecom towers being installed in residential areas
Haridwar, September 6
Though the electromagnetic frequency (EMF) radiation exposure limits for telecom towers have been lowered to the 1/10th of the existing limits, the mobile phone service providers are blatantly violating the new norms by installing towers in the residential areas in Haridwar.
Portion of Kohinoor Building falls
Mussoorie, September 6
Following the overnight rain, a portion of the Kohinoor building collapsed around 8 am today instilling fear among the residents. Fortunately, their was no casualty as the labourers residing in the building had left for work 15 minutes before its collapse.
Anit vs Vinod in MPG College elections
Mussoorie, September 6
Anit Kumar from the National Students Union of India (NSUI) and Vinod Singh from the ABVP filed their nomination papers for the post of president of the Mussoorie Postgraduate College elections here.
Students' union elections
Aryan Group candidate gets leaders' support

Dehradun, September 6
Student leaders of DAV (PG) College today extended their support to Satish Mohan Pant of Aryan Group, a student organisation, for the post of general secretary in the studentsí union elections of the college.

Aryan Group members along with Santosh Mohan Pant, their candidate for the post of general secretary, in the DAV (PG) college studentsí union elections. Tribune photo: Vinod Pundir

Suicide bid by boy
Dehradun, September 6
Shailender Kumar, who lived in a rented accommodation on Tyagi Road, attempted to commit suicide here today. However, he later told the owner of the house that he had consumed some poisonous substance.
Doon United beat CT Youngs 3-1
Dehradun, September 6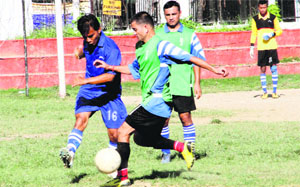 Doon United beat CT Youngs 3-1 in a match in the Lala Nemi Das Memorial Football League here today. Amit Kumar scored the first goal for Doon United in the 25th minute of the match while Pradeep and Amit Chandel scored the second and the third goal in the 45th and 69th minutes, respectively. Ayush was the lone scorer for CT Youngs.
A match in progress during the Lala Nemi Dass Memorial District Football League in Dehradun on Thursday. Tribune photo: Vinod Pundir

Summer Valley School, St Thomas College win B'ball matches
Dehradun , September 6
Summer Valley School, St Thomas College, Carman School and Wynberg Allen School, Mussoorie, won their respective matches in the 8th Gardener Silver Jubilee Inter-School Basketball Tournament for Girls, 2012, played at the multi-purpose auditorium of St Thomas College here today.
Cambrian Hall, Morovian International School register wins in football
Dehradun, September 6
On the third day of the Council Schools Senior Boys' Football Tournament, four matches were played. The first match was played between Cambrian Hall and Summer Valley, which was won by Cambrian Hall by a lone goal. The winning goal was scored by Aman Bisht in the 42nd minute of the game.