Shera looted only luxury vehicles: Police
Gurdeep Singh Mann
Tribune News Service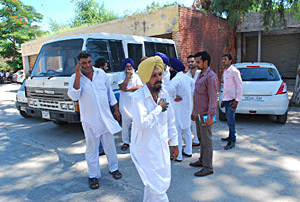 Shera's uncle Darshan Singh arrives at the Civil Hospital on Friday. Tribune photo: Pawan Sharma


The girl who was accompanying the gangster killed in encounter being produced in the court on Friday. Tribune photo: Pawan Sharma

Bathinda, September 7
Twenty five-year-old Gurshaheed Singh Shera aka Gursewak, shot dead by the Bathinda police yesterday, was a sportsperson who participated in the national-level hammer throw event. Also good at singing, Shera came in contact with a sportsman-turned-robber in Patiala in 2009 and become his accomplice in bank robberies at Panchkula, Ludhiana and Mohali. He snatched a car at gunpoint in Khanna and was involved in many other heinous crimes including murder and kidnapping in Punjab, Haryana, Chandigarh and Gujarat.
The son of a Milkfed employee, Shera remained cut off from his family and native village Khubban in Fazilka after a case of murder was registered against him in Ferozepur three months ago. Before this, he had attended the marriage of his two sisters in Khubban village.
While the police said Shera was involved in numerous heinous crimes across Punjab, Haryana and Chandigarh, his relatives said they were not aware of his criminal background.
The girl accompanying Shera last evening in a Toyota Fortuner car during the police encounter has been identified as 26-year-old Namdeek Kaur of Malout.
A distant relative of Shera, Namdeek told the police that she was kidnapped by Shera who threatened her with dire consequences if she opened her mouth about her kidnapping. She said Shera was planning to execute something big with the help of hardcore criminals from districts in Malwa. The parents of Namdeek Kaur are in Canada and she was residing with her uncle.
Shera's uncle, Darshan Singh, while waiting to receive his nephew's body at the Civil Hospital, Bathinda, said Shera has two sisters and both are married. The youngest sister was married a year ago.
"Shera got frustrated when he was declared third in a sports event, reportedly due to the biased attitude of the organizers. We brought the matter to the notice of the then Director, Sports, but to no avail," said a close friend of Shera's family, Iqbal Singh. Iqbal Singh said Shera might have taken to crime out of frustration and due to his young age and wrong company.
Iqbal said Shera had done his graduation and studied in Khalsa College, Ferozepur, and Guru Gobind Singh College in sector 26 at Chandigarh. He had undergone training in sports academies at Ludhiana and Patiala.
Ajit Singh, a close family member said Shera had also cleared the International English Language Testing System (IELTS) with 6.6 bands and was planning to go to New Zealand.
Police sources said some of Shera's accomplices are sportspersons including a kabaddi player and the son of a police official deployed in Chandigarh.
DIG, Bathinda range, Parmod Ban said Shera was part of a gang with more than 12 hardcore criminals involved in heinous crimes. The household material recovered from the rented house in Kamla Nehru Colony has been seized along with the Toyota Fortuner car and raids are on to nab his accomplices, the DIG said.
Bathinda SSP Dr Sukhchain Singh Gill said they are still verifying the facts including the statement of the girl who claims she was kidnapped by Shera.
ASP City-II Kuldeep Chahal, who accomplished yesterday's shootout without causing any collateral damage to the public or the girl accompanying Shera said more arrests are inevitable in the coming days.
"The members of the gang involving people like Shera had big dreams. They do not think of committing crimes for a few thousand rupees but for lakhs and crores," the ASP said.
Meanwhile, in a late evening revelation, SSP Dr Sukhchain Singh, told TNS that preliminary reports revealed that Namdeek Kaur could be involved in some crime as they suspect the registration of cases against the woman in some districts of Haryana. Releasing a list of 13 criminal offences against Shera, including four murder cases, the SSP pointed out that Shera's gang used to loot only luxury vehicles like Pajero, Fortuner, and Innova and were planning to kidnap some wealthy people. A rarely seen Austria-made highly sophisticated 9 mm Glock Mouser, worth Rs 9 lakhs, has been recovered from the possession of Shera.
Police have obtained the police remand of woman till September 9. The SSP has also warned the residents not to rent their houses without verifying antecedents and prior intimation to the police.
Shera's crime list
Murdered one Nishan Singh under Kulgari police station on January 20, 2012.
Murdered Saudagar Singh on May 22, 2012 in Mataur, Mohali.
Murdered a man on 21, May, 2012 under Ghal Khurd police station in Ferozepur.
Murdered Happy Deora on July, 1 2012 under the area of Ferozepur Cantt police station.
Kidnapped one Hardeep Singh of Malout (Muktsar) and took Rs 10 lakhs.
Kidnapped a man in Udaymandar, Rajasthan for extortion and snatched a Toyota Fortuner car.
Got extortion money of Rs 30 lakhs on May, 12, 2012 from Sandeep Singh of Ludhiana.
Robbed an Opel Astra car under Thermal Police Station, Bathinda on December, 8, 2011.
Snatched Toyota Fortuner on February, 23, 2012 from a renowned Punjabi singer in Phagwara.
Stole Mitsubishi Pajero luxury car from Nagaur in Rajasthan.
Snatched Fortuner from Kotkapura.
Took away an Innova from near lake number 3 of Bathinda last month.