Spring Dale Senior School holds 'Litart-2012'
Tribune News Service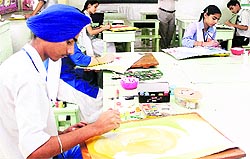 Students participate in "Litart - 2012" organised by Spring Dale Senior School in Amritsar on Wednesday. A Tribune photograph

Amritsar October 17
Spring Dale Senior School organised "Litart - 2012", a festival of Literary and Artistic Events, today in which different teams from the city schools participated.
The literary activities included interview, radio jockey, debate (turncoat), spellathon, poetry recitation, extempore, art activities, poster making and graphic designing.
The team of Senior Study School, Amritsar, bagged the maximum number of prizes. It bagged first prize in the categories of interview, poetry recitation, spellathon, radio jockey, debate (turncoat) and poster making.
The first prize in the extempore category was bagged by Sri Guru Harkrishan Senior Secondary School, GT Road, Amritsar, and the first prize in the graphic designing category was won by Modern High School.
Workshop on 108 ambulance service
A workshop on 108 ambulance service was held at Delhi Public School for 125 students of class VIII along with science teachers to make children informed in their daily lives and also to equip them with meeting different emergencies that they may face in life. The students were enlightened about various emergencies and types of medical crisis.
Sangeeta Singh, principal of the school, said: "The children were demonstrated about first aid practices. Remaining calm and how to handle an emergency situation in the most methodical way were stressed at the workshop. They were acquainted with the unique features of 108 services that were well-equipped with basic medical facilities and a medical attendant to handle, help and administer the initial care required to the patient during commutation to a hospital.
Inter-school and college competition
BBK DAV College for Women, Amritsar, organised an inter-school and inter-college competition.
The competition was conducted by the Fine Arts Department being run under the supervision of Dr Neeta Mohindra, Head of the Department, who has invited various schools and colleges for a competition in 3D with the topic "Nurture Nature for Future".
Students created wonderful pieces on cloth and ply, which were in 3D to convey a certain message for all to save environment and a call to go green so that we can make the earth, our home, a better place to live in.
The competition was conducted in 3 categories. Category 'A' included class IX and class X, category 'B' included class XI and class XII and category 'C' was for the under-undergraduate classes.
In Category 'A', the first prize was won by Police DAV Public, second prize by DAV Public School and the third prize was won by Cedar Spring School.
In Category 'B', first prize was won by DAV Public School, while second prize was bagged by Amritsar Public School.
In Category 'C', first prize went to DAV College, Hathi Gate, and second prize was won by Khalsa College for Women. Two special prizes were awarded to the host team.
Recruitment drive at KCW
A team of officials from IBM, an IT giant, today reached at Khalsa College for Women (KCW) for campus placement. They interacted with students and shortlisted more than 30 for the final selection process, said KCW principal Dr Sukhbir Kaur Mahal.
She said the company's current requirement was in executive operations for technical and semi-technical and non-technical voice process and also for web processing.
IBM officials included Komolika Chatterjee (HR, Kolkata), Rether Pillai (senior HR, Pune), Nishank Gupta (training facilitator, Chandigarh) and Rakhi Bansal (senior practitioner operations, Gurgaon). Dr Mahal also addressed the students and said the college provided the pre-placement training to the interested students every year to increase their potential in the job market.
The students of BA, B.Com, B.Sc (CS), BBA, BCA, B.Sc (NM), MA, M.Com, M.Sc (IT), M.Sc (CS) participated in the recruitment drive.