Virasat Day 7: 'Chakravyuh' revives lost glory of Pandava tradition
Tribune News Service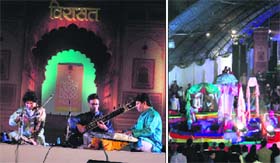 Navin Gandharva, along with his group, performs at Virasat-2012 in Dehradun; and (right) artistes enact 'Chakravyuh'.
Dehradun, November 4
The first performance on the seventh day of Virasat 2012 held here last evening was a Garhwali folk environmental theatre 'Chakravyuh'. 'Chakravyuh' is a series in the revival of the cultural festival that started in the Kartik valley, Rudraprayag, which has set off a chain of performances in the area and has been nationally recognised by the National School of Drama, New Delhi.
Himalayi Naad, a traditional brass band, has been formed for the purpose of performing these plays.
'Pandava Lila', better known as 'Chakravyuh', is enacted in a few villages of the state after Divali.
Chakravyuh is a well-known episode of the Mahabharata, wherein Abhimanyu, the son of Arjun, is treacherously killed by the seven Kauravas in a circular battle-formation.
The episode evokes primordial tragic pathos among the audience.
In 1995, Rural Entrepreneurship for Art and Cultural Heritage (REACH) invited expert theatre artistes and scriptwriters from different villages to draw the performance design of the play and prepare the script. The research conducted over the past 15 years was used to collect folk elements from different variants of the play. Folk tunes suitable to the mood of the episode were also culled from different traditions.
"Chakravyuh is a journey that began in 1995 from Gandhari village in Rudraprayag. It was not easy to put together the mammoth cast and introduce the Garhwali script, removing elements of Parsi Theatre and Bollywood. The REACH deserves credit for the fact that Chakravyuh, in its traditional form, has been revived in Garhwal," said Lokesh Ohri of the REACH.
The effort towards revitalisation and constructive intervention is hoped to restore the lost glory of the Pandava tradition. Such efforts are bound to encourage folk artistes to present the traditional form of 'pandvani shaili' in the villages.
"It is surely a great piece of good fortune that the Chakravyuh escaped damage. The performance at Gandhari indeed was a historic event which can be taken up as a starting point to reconstruct our great heritage. We strive to revive this lost art form at Virasat," said RK Singh, general secretary of the REACH.
The second performance of the evening was 'Anuraaj', a fusion musical by Navin Gandharva. The performance of Navin and his troupe included mellifluous renditions of Hindustani music with contemporary colours. The fusion of various instruments, including belabahar and sitar, was was breathtaking.