legal literacy youth festival
Edu institutes urged to form social clubs to nip drug abuse in the bud
Our Correspondent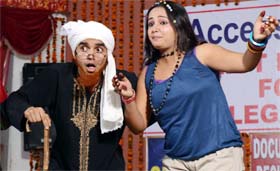 A scene from the skit "Mirza Sahiba Da Punrjanam" being enacted at the legal literacy youth festival in Abohar. Photo: Raj Sadosh
Abohar, November 5
Pioneering the slogan "Let the youth speak", the Punjab Legal Services Authority organised a legal literacy youth festival attracting hundreds of students from Jalalabad, Fazilka and Abohar at the DAV College auditorium here.
Toppers in the day-long competitions showcased their talent before the senior officials of the district including SSP Amarjit Singh Chahal, judicial officers and members of the Bar Associations. The final phase of the function was conducted by Suman Sachdeva and the assistant district attorney RK Sharma.
Chief guest Fateh Deep Singh, District and Sessions Judge, Ferozepur, said the District Legal Services Authority (DLSA) had undertaken such activities to create legal awareness among the students.
He said the festival is an attempt to promote the rule of law.
He advised the heads of the educational institutions to form social clubs to combat drug addiction and other social ills in its initial stage.
Principal of the college hosting the event and a member of the Panjab University senate, Dr Sanjeev Kumar Arora, lauded the efforts of the Legal Services Authority to bring about legal awareness. He observed that social injustice is the prime reason behind the unrest among the youths.
DLSA secretary Jaspal Verma informed that the winners in the district-level competitions will participate in the zonal festival at Bathinda on November 18.
The skit "Mirza Sahiba Da Punrjanam", staged by Kenway College of Education, mesmerized the gathering and won the first prize.
The winners in other competitions were Arshdeep (poem recitation), Shivani Bajaj (declamation and power point presentation), Sukhpinder Kaur (poster making and slogan writing), Harvinder Kaur (photography) and Shubham Arya (documentary).
The students of Bhag Singh Hayer College for Women enthralled the audience by presenting the folk dance giddha.